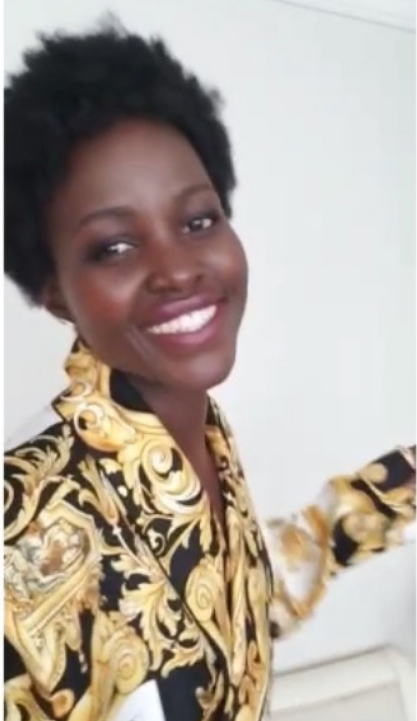 Cocoa-coated cutie Lupita Nyong'o was in a celebratory mood the other day when she learned that pop goddess Beyoncé shouted her out on the hit song "Brown Skin Girl."
"Brown Skin Girl," which has already ignited the #BrownSkinGirlChallenge on Twitter, is an ode to women of varying brown tones. One of the people who was trumpeted in the song is the very photogenic Nyong'o, 36, who won an Academy Award for her Best Supporting Actress role in the groundbreaking film 12 Years A Slave. 
"She need an Oscar for that pretty dark skin/ Pretty like Lupita when the cameras close in," Beyoncé sings in the African-themed song.
Queen Bey also showed love to her adopted sister Kelly Rowland in the song, as well as legendary supermodel Naomi Campbell.
Beyoncé made it a point to have her companion album, The Lion King: The Gift, have a serious African slant as her way of paying homage to the Motherland as well as coincide with the original soundtrack that imbued African influences throughout the movie score.
"This soundtrack is a love letter to Africa," Beyoncé, 37, told "Good Morning America."
"I wanted to make sure we found the best talent from Africa and not just use some of the sounds and do my interpretation of it. I wanted it to be authentic to what is beautiful about the music in Africa."
There is nothing more quintessential African and beautiful than Nyong'o, who also starred in record-breaking Black Panther in 2018 and in Jodan Peele's blockbuster thriller Us earlier this year. She took a moment to thank Bey for giving her props while dancing to "Brown Skin Girl."
https://www.instagram.com/p/B0G0_jSn5Xn/
https://twitter.com/iambestb/status/1152119539175440384?ref_src=twsrc%5Etfw%7Ctwcamp%5Etweetembed%7Ctwterm%5E1152119539175440384&ref_url=https%3A%2F%2Fwww.complex.com%2Fmusic%2F2019%2F07%2Flupita-nyongo-beyonce-brown-skin-girl