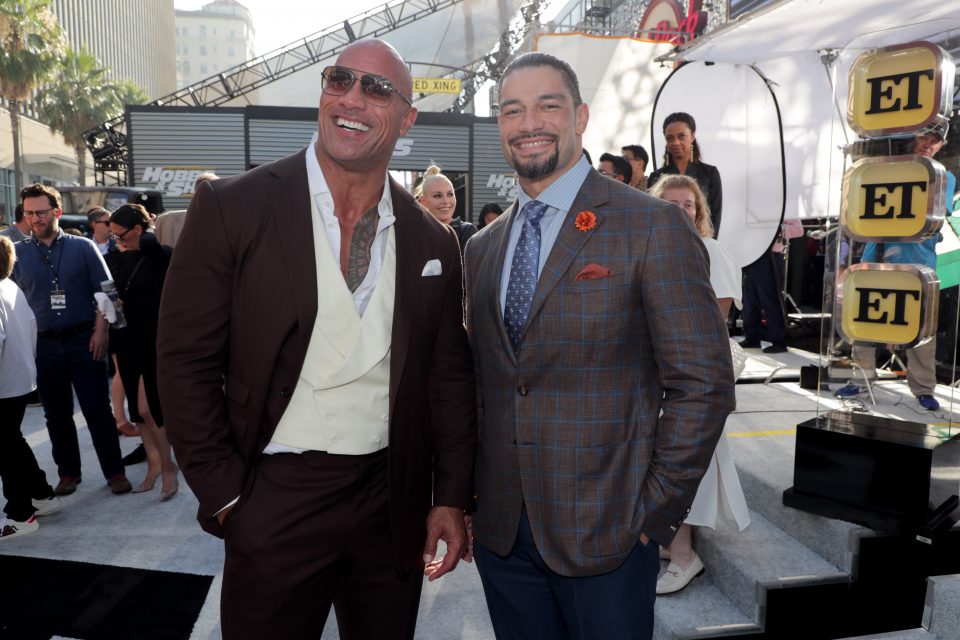 Fast and Furious Presents: Hobbs and Shaw is more than a movie for WWE star Roman Reigns. It's a culturally rich experience to share with the world.
Reigns, aka Leati Joseph "Joe" Anoaʻi, appears on TV weekly as one of WWE's biggest stars, but the transition from a superhuman in the ring to film actor wasn't as easy as a phone call. Despite his WWE connection to Dwayne "The Rock" Johnson, Reigns had to audition for the role of Mateo, not to mention perform the film's rigorous stunts without the aid of a semi-soft canvas and ring ropes.
Ahead of the film's wide release on Friday, Aug. 2, 2019, Reigns sat down with rolling out to discuss sharing his Samoan culture on the big screen and how filming changed him.
There are a lot of "Hobbs" men in this family. That's a good thing, wouldn't you say?
There are, and that's what we're trying to build here: an emphasis on family. The world is about to end, and who do you have to lean on? Your family.
The Hobbs family is Samoan — a group of people rarely exposed in-depth on film. Did you feel you had to make sure you represented properly for the culture?
Not really. I represent for the culture in everything I do. One obvious way we represent is how we wear our ink and tattoos. We take a lot of pride in that.
For me, it was getting there to the island. It was good to be around our brothers and sisters that have such passion for our people.
Samoan culture is intertwined with some crazy action scenes. Who messed up more during the War dance? You or Dwayne?
You're really putting me on the spot. Honestly, I thought everybody was on point. Dwayne had to speak a lot Samoan as well.
[Actor] Cliff Curtis (Jonah) said it was important for us to practice in that swirl. That way the performances are easy the night of, and Dwayne and can just step in and flow with us. It was incredible.
How has this experience changed you? Is this the birth of Joe Anoa'i, the movie actor?
Anytime you get to see Dwayne do his thing, you're going to walk away inspired. I'm definitely there where I want to reach for more. I'm very happy with where I'm at in my life and career. … I love to tell stories and build characters and bring them to life. If my goal is to be the best performer, I should know as much as possible. Knowledge is power. If building to the next level comes with that, [in] acting or even directing for that matter, I can't learn enough. I never want to limit what I'm capable of doing. Hollywood could be something in my near future.
Check out Roman Reigns in the trailer for Fast & Furious Presents: Hobbs & Shaw below.