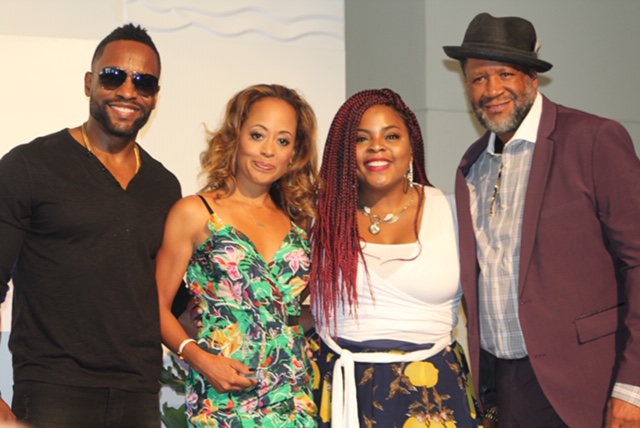 A conversation with women's rights crusader, Essence Atkins
In a poignant and moving show of genuine gratitude, beloved actress Essence Atkins, star of the hit television show "Ambitions," expressed heartfelt appreciation as she accepted the 2019 Woman of Influence Award from show co-stars Kendrick Cross and Brely Evans at Loudermilk Center on Friday, Sept. 6. "This is such a surprise," she said through tears. "I started crying as soon as I saw Kendrick and Brely up here. This means a lot to me, but it especially means a lot to me, coming from you two," Atkins said emotionally.
Following the award acceptance, the 47-year-old actress sat down with lifestyle influencer Jesse Woo to discuss the road to stardom and her commitment to women's empowerment.
Did you know that you would be as accomplished as you are when you started your career?
To be honest, no. I had no idea that this would be the legacy of me or that it would take this long to get to this point where I feel like would ever love this business more 30 years in than I did when I started, but I do. So, I know that this is a part of my purpose.
Because I was a child when I started, I imagined the things that you imagine about stardom; magazine covers and limousine rides and all the fabulousness and paparazzi … but what I discovered is that I'm a storyteller and that's my job as an actor. I'm part of a collective, and an ensemble and that tells stories.
How is it you're able to exude such confidence and poise on the show?
You have to do the work of surrender. I do the work of eating right and exercising and making the right food choices to look good for that outward confidence. But the inward confidence, I have to give it up for Kendrick. He's absolutely fine, but more importantly he is a gentleman and he makes me feel safe.
We've been hearing in great proliferation about Me Too, and how it's everywhere in every industry, hotels and board rooms and corporate spaces and certainly in the [entertainment] industry … and to know a man who is empathetic and kind and makes me laugh and makes me not feel self-conscious … I have to shout out that type of kindness … and this amazing village.
How does the "village" help you face challenges?
Everyday there is something to be concerned about and it doesn't have to be your own personal stuff. If you are an empath and if you are connected to humanity, every day there is something to be concerned about and to be activated about, but there is also something to cheer about and celebrate. So it is really important that the village around you is empathetic but also at the same time will challenge you to not be apathetic.