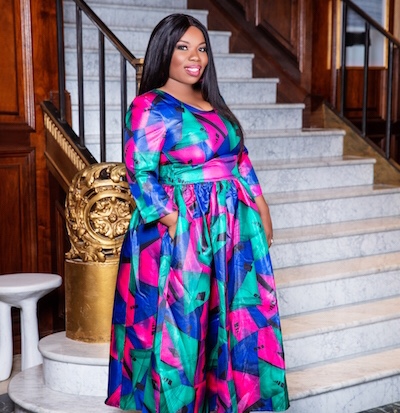 Quiana McDaniel is the founder of the House of Dasha, a woman's clothing line, and Dasha Cosmetics. She used her foundation in business to build her brand from the ground up. In her latest venture, McDaniel is launching Dasha Couture, her new private line of clothing that features bold patterns and beautiful colors.
As a Black woman, what do you consider your superpowers to be? 
I feel that [one of] my superpowers [is] never giving up. Even when there are no more options, I trust that God will see me through. … My ability to learn from all life lessons, good or bad, [is another]. No matter the mistake, I use it as a growing opportunity for my next chapter.
What key skills make you unique as an African American female leader? 
I feel that I am an excellent communicator. … I stay humble, ask questions and always try to get a clear picture of what's in front of me. I was told that it would be impossible for me to reach the women in the South Dallas market coming from the Midwest and completely changing my career. I took that as a challenge and have reached women of all sizes and colors. Women come from as far as McKinney or even surrounding states to shop or get styled by House of Dasha. I go the extra mile for all my clients and communicate with them on a personal level. They are not just clients; they are my family as well. I have been blessed to see so many amazing ladies in my career.
What thoughtful piece of advice would you give to your younger self? 
I would tell my younger self to be patient. Wait and do not let the hunger for growth force my decisions. Also, [I would tell my younger self] to take every loss and turn it into a lesson. You can never ask too many questions, and [you should] trust who you are becoming.
What are three success habits you implement into your daily routine to maintain your success, sanity and peace of mind?
First and foremost, I start my day with the Lord. Prayer and time with God start your day off positive[ly] no matter what's going on around you. Second, [I] take accountability for what my day has for me, good or bad, and face it head-on. Third … [I] never stop, never give up. [I] know that God has the final say.
As a successful woman in business, what is your greatest achievement?
My greatest achievement in business was being a part of the 2017 MegaFest. For years, I had heard of the conference but never thought it would be within my reach. Not only did God allow it to be a part of my journey, [but] he also used the MegaFest to show me that my reach is far beyond what my eyes will ever see.