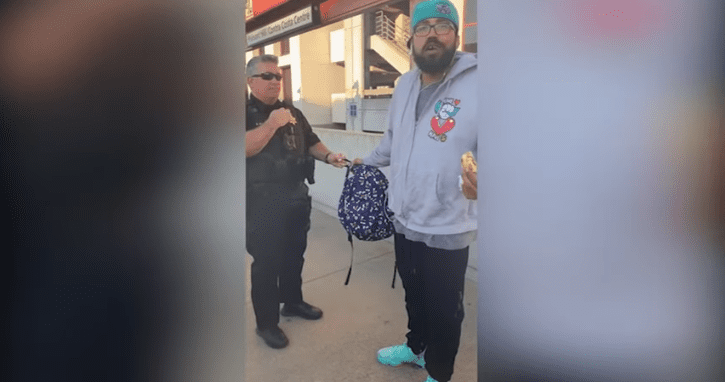 A Black man from California was detained and cited by a Bay Area Rapid Transit (BART) police officer Friday, Nov. 8, 2019, for eating a breakfast sandwich and refusing to provide identification on the platform of the Pleasant Hill train station.
Steve Foster, who rides the BART train to and from San Francisco daily, was enjoying his sandwich when he says an officer, identified as D. McCormick, zeroed in on him in the midst of a sea of commuters. McCormick told an ABC News camera crew that he was looking for an intoxicated woman when he saw Foster eating his sandwich.
California law and BART prohibit passengers from eating or drinking inside train stations and there are signs posted that indicate as much. That, however, has never stopped BART customers from indulging in quick bites, nor has it prevented independent food trucks or stores from serving meals to passengers.
On Saturday, Nov. 9, passengers staged an eat-in at the same Pleasant Hill BART station where Foster was cited. Among the people who were there to protest the treatment of Foster was BART board of directors member Janice Li, who ate with the outraged bunch.
"I realize some things are illegal with our penal code, but I want to be mindful of how we're using resources to enforce our system," said Li, who, like Foster, is of the opinion that there are bigger issues within BART's infrastructure that need to be addressed.
BART spokesman Alicia Trost did not attend the eat-in and sang a slightly different tune. "No matter how you feel about eating on BART, the officer saw someone eating and asked him to stop, when he didn't, he was given a citation," she said, adding that an independent police auditor will be reviewing the case.
Foster was eventually handcuffed and taken into a private room on the premises. After providing his identification, he was given a citation, then let go.
"I'm definitely upset, mad, a little frustrated and angry about it," Foster told ABC News. "I hope they start focusing on stuff that actually matters, like people shooting up dope, hopping the BART, people getting stabbed."
Flip the page to view the entire video of the initial incident that has now gone viral. Be advised, the video is laced with profanity and strong language.