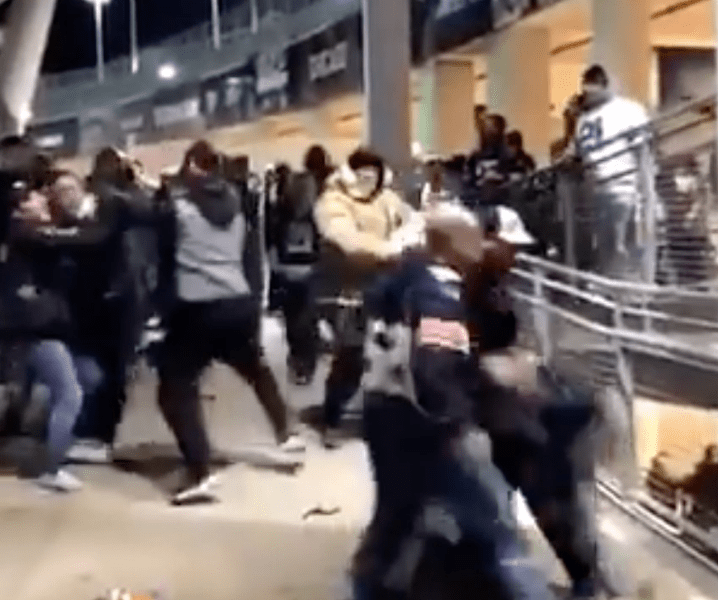 While the Chicago Bears were administering a beatdown on the Dallas Cowboys at Soldier Field in Chicago on Thursday Night Football, Bears fans were walloping Cowboys faithful in the turnstiles.
At some point during the Bears vanquishing of the reeling Cowboys, 31-24, in which Dallas trailed 24-7 and 31-14 later in the game, fans erupted in the bowels of the stadium.
Barstool Sports obtained cell phone video of several Bears fans pummeling a couple of people in Dallas Cowboys apparel. There is no indication from Barstool Sports nor TMZ exactly when the altercation began or what precipitated it.
According to the Chicago Police Department, which spoke to TMZ, there was no indication of serious injuries. At this time, no one has been arrested or charged with assault in the melee.
Bears kicking the s— out the of Cowboys on the field and in the parking lot (via IG/blakeheisman) pic.twitter.com/EmLTfQcoFw

— Barstool Sports (@barstoolsports) December 6, 2019
Unfortunately for the Cowboys, the game resembled the actual game on the gridiron, which was not nearly as close as the final score indicated. The Bears dominated and completely flummoxed the Cowboys to build a 17-point lead in the fourth quarter before the Cowboys produced 10 points late to make it look respectable.
Despite the thorough beatdown and losing three games in a row, the Cowboys still lead the NFC East with a 6-7 record because the rest of the division is so pathetic. There is no team in that division with a winning record.
The Eagles are a half-game behind at 5-7. Therefore, the Cowboys and the Eagles still have a chance to get in the playoffs because the winner of the NFC East gets an automatic bid for the postseason.