Government informant and Latino rapper Tekashi 6ix9ine, born Daniel Hernandez, made waves earlier this year for his willingness to comply with authorities. As news of his testimony traveled through the hip-hop industry, Hernandez lost the respect of his peers and his integrity took a hit. It has been reported by multiple sources that the former Nine Trey Gangsta blood member is on the brink of freedom, or will at least know his fate sometime this week, perhaps Wednesday, Dec. 18.
While Cardi B, Jim Jones, 50 Cent, Snoop Dogg, Vince Staples and a host of others have denounced Hernandez for obvious reasons, K Michelle is not among them. In fact, the Memphis, Tennessee-born songstress posted a message in support of the Brooklyn, New York-based rapper.
Michelle expressed in no uncertain terms that she is "happy" Hernandez, who is now known as "the snitch rapper" might be released. She also admitted to being fond of his music and offered she would do the same thing if she were in his position.
She tweeted: "…if somebody tried to kill me i'm snitching 2,and im snitching on you cheating n—–. Lol.Half these rappers y'all like ARE NOT ABOUT THAT LIFE…"
Read the censored post in its entirety below: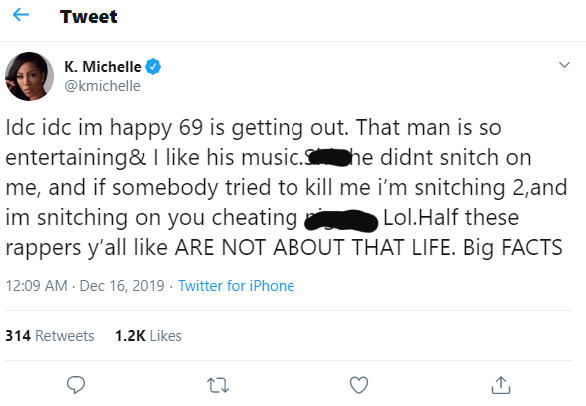 While a good amount of fans tried to make sense of K. Michelle's stance, the backlash was fast and furious. A good majority of users left rat emojis. Others dropped perplexed face or laughing emojis and there were outright written responses.
Click through to see what they had to say.