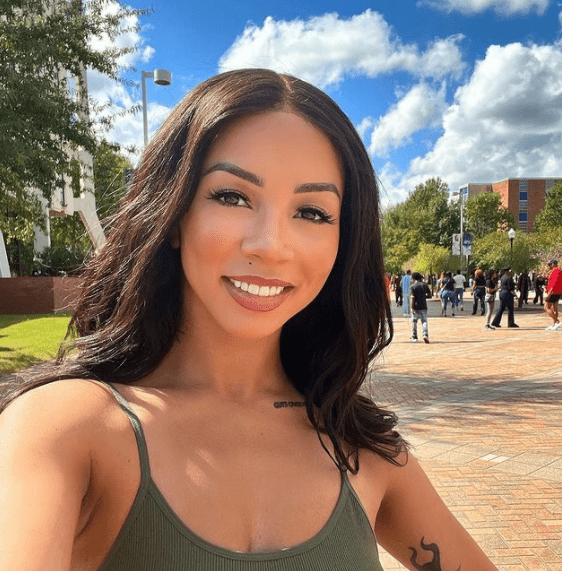 Social media influencer and Instagram model Brittany Renner has been dragged through the media this year with accusations that she manipulated and trapped NBA baller PJ Washington. Renner gave birth to the former couple's son in May and has been accused of being a gold-digger by intentionally getting pregnant by the 23-year-old Charlotte Hornets basketball star for a huge pay day once she gave birth.
The 29-year-old Renner hasn't been entirely innocent as she has helped troll the accusations with posts insinuating that she was on the prowl for young male athletes. Just last month, she visited her alma mater Jackson State University where retired NFL star Deion Sanders currently coaches, and posted a message stating, "Hey Jackson State! Hide your sons 😋."
Renner stopped by DJ Akademiks podcast "Off The Record" this week and told the host and the audience that she's being positioned as the bad guy when everyone involved is an adult and made their own decisions.
"This is what I get so f——- annoyed about is like when do you as men take accountability. You are old enough to ride this ride. You want to f—- with me, you want to c—- in me, you want to f—- me raw, so why are we babying men who make decisions for themselves. … Stop acting like someone had to pull the wool over his eyes," she explained to Akademiks as she defended her actions.
Renner further revealed that PJ Washington wanted the child and was not deceived.
"So please stop playing this victim narrative. If you wanted to just f—- me and say, 'Oh she's trophy p—–, I hit Brittany Renner,' that's that. Why did we have a baby? Our baby's name is Paul Jermaine Washington III. Does that sound like an oops baby? Does that sound like someone who has been bamboozled? You asked me to move in with you. You asked me to have your child at 22-years-old. And here we are," she further stated.
Check out Renner's post below as well as photos of PJ III.