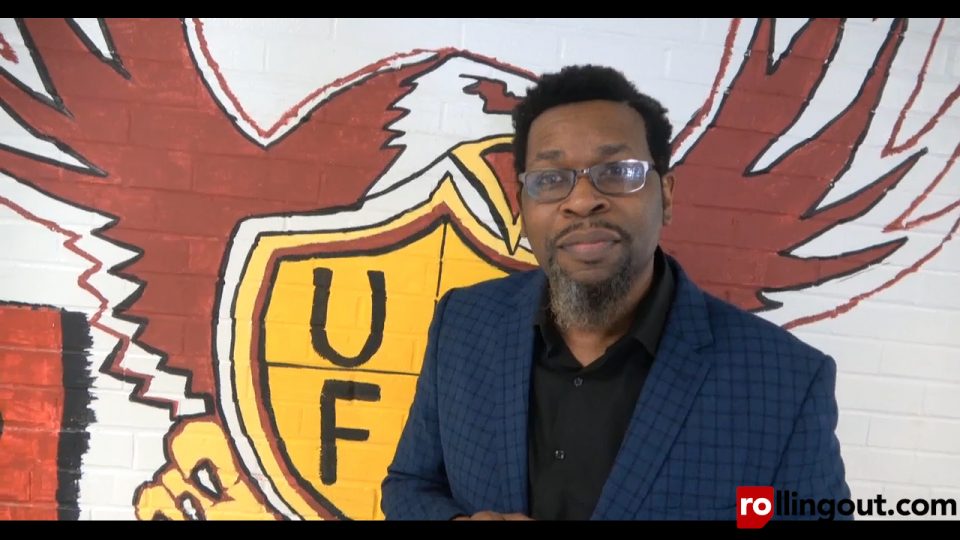 Music runs through Reggie Hines' bloodline.
The producer showed off his impressive range and breath control for the students at the Utopian Academy for the Arts when the school unveiled its new "Musiq Room." After his performance, Hines presented new instruments for the students to use. When the festivities calmed down, he spoke with rolling out about his background in music and where he sees the industry going.
How does it feel to be a part of the Musiq Room unveiling?
It sat right at home for me. This is the type of environment, growing up in New York City, being involved with all the performing arts around the city, it felt like home. It felt good because I haven't seen something or experienced this type of energy in years. So [to] see that is being brought out again, in this form. Then with the twist of the modern era, that nature is an amazing thing. We need music back in schools, and on every level. Not just the music, but everything that goes along with it — stage management, production, dance, chorus, singing, all of that. It helps you think, but at least that's how it worked for me, problem-solving skills. Music just gives us an internal assurance of knowing where we want to go, and having the power to control it immediately.
Nowadays, kids can just download software and become producers. Do you feel instrumentalists are declining?
For me personally, I was fortunate enough to actually produce and put records together. As far as the different software and different programs that are used, I do it both ways. I do the old-fashioned way with live musicians and say, "OK, this is what I like. Oh, I can write the music out." … I got that training, actually from public schools. I went to public schools and different things within the city to help me do things. Now, I encourage the kids to always start with the basics of real instrumentation. That's my sax, the real instrumentation, because when you work on these programs, you get an idea of what these programs are based on. If you have the sound of the authentic instrument, master that field, then you know how to maneuver around when you produce.
What do you feel is the significance of opening the Musiq Room?
For me, it's really moving. It's really cool because this is a different type of environment. When you're in a performing arts environment, you think differently, you roll against the norms a little bit. Some people might even call you an outcast. Why? Because you're full of ideas. You're the innovator, you're going to be the one that when your idea comes out, these people will follow. So I'm just happy about this building and look forward to the expansion from what I hear coming soon. Thanks again, especially to [the] Steve & Marjorie Harvey Foundation for allowing me to be here, and thank you for all the sponsors that gave the instruments. God bless.
Watch the video on the next page.