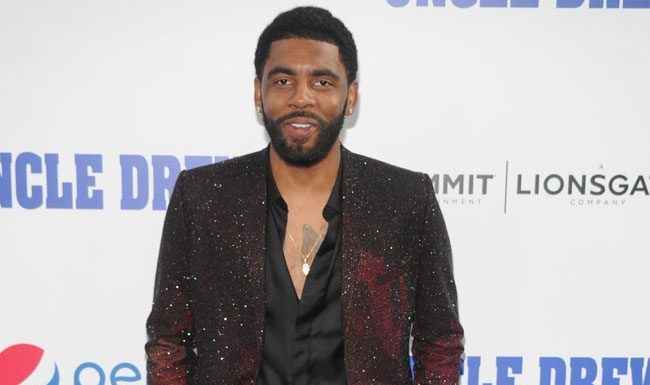 The NBA Playoffs have begun, which means every facet of the game is elevated exponentially, including the fans bantering at players.
That's what happened on April 17 when the Boston Celtics and Brooklyn Nets faced each other in the first game of their first-round series. Celtics fans have been giving Kyrie Irving a hard time for years, but this time the Nets point guard decided to fire back.
During the fourth quarter of the game, Irving gave two middle fingers to the Celtics fans behind him as he inbounded the ball.
"You guys like my haircut??" pic.twitter.com/7KxvLkxmcc

— Andrew Brandt (@AndrewBrandt) April 17, 2022
Another angle shows the reaction of the fans while he made the gesture.
The behind the head middle fingers by Kyrie to the crowd was slick. pic.twitter.com/J0rqdh9U51

— Barstool Sports (@barstoolsports) April 17, 2022
Irving was also caught talking back to a fan after they yelled "Kyrie, you suck" while he was heading to the locker room at halftime. Irving responded to the fan saying "Suck my d—, b—-."
Kyrie is fed up with Celtics fans pic.twitter.com/HS0SbkHCGv

— Complex Sports (@ComplexSports) April 17, 2022
After the game, Irving had an explanantion for the actions that he took part in during the game.
"I'mma have the same energy for them," Irving said in the post-game interview. "And it's not every fan, I don't wanna attack every fan, every Boston fan. When people start yelling p—- or b—- and f— you and all this stuff, [there's] just so much you can take.
"So if somebody is gonna call me out of my name, I'm going to look at them straight in the eye and see if they're really about it. Most of the time, they're not."
It's clearly obvious that Irving has had enough of the fans. It will be interesting to see how he approaches the next game.