Rap bosses 50 Cent and Benzino have declared war against each other after serial troller Fifty accused Benzino of dating a transgender model this past weekend. Subsequently, when 50 Cent said he would put Benzino's own daughter Cio Leray on TV, Benzino responded to the taunt with verbal fire on social media.
Benzino went off on a Twitter tirade against Curtis Jackson and his estranged daughter Leray because she is now collaborating with the man (50 Cent) who is trying to defame her own father with vicious rumors of sexual ambivalence and bisexuality.
On Saturday, 50 Cent shared a post on his Instagram showing love to Leray. Fifty told his 28 million Instagram followers, "Now would be a good time to stop hating on @coileray I'm gonna make her show up on your Tv. STOP worrying about a first-week WORK."
Leray responded with elation to 50 Cent's vow to help her career with, "GLG !!!!! LET'S GOOOOOOO."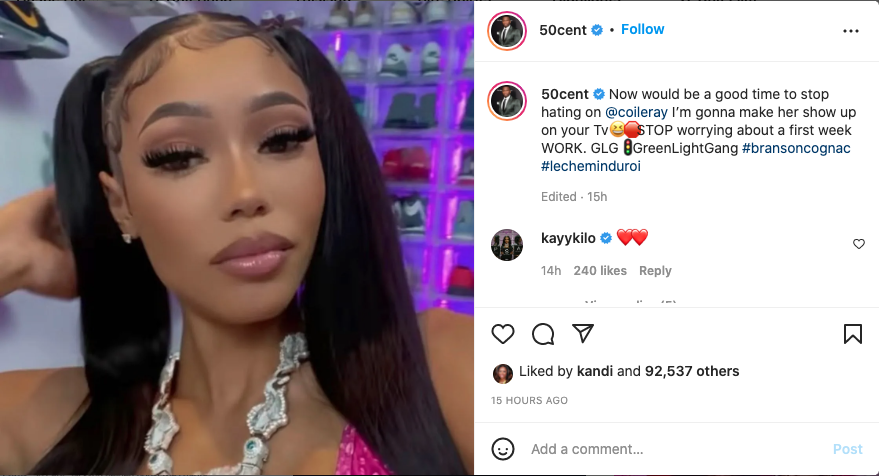 Benzino, 56, who was born Raymond Leon Scott, said 50 Cent has crossed the line by championing Benzino's own daughter after she recently accused her father of being broke financially in interviews.
Benzino also claims that 50 Cent cannot help his daughter, Leray, because he does not own the Starz show "BMF" which Fifty created and is producing. He raged on Twitter, saying: "Your dumb a– made the decisions not to tell anyone because you already invested too much. I'll be releasing the entire lawsuit real soon, but I'm gonna let u marinate for sec before I stick a fork in you."
Moving on to his daughter, Benzino questions 50 Cent's motives for trying to elevate Benzino's daughter's career. He mocked 50 Cent by calling him "ratman" and "59" before tearing into 50 Cent and his daughter even further.
https://twitter.com/IAMBENZINO/status/1518074629667139584
https://twitter.com/IAMBENZINO/status/1518076997917892610
https://twitter.com/IAMBENZINO/status/1518213743783649283
https://twitter.com/IAMBENZINO/status/1518215869838544898
https://twitter.com/IAMBENZINO/status/1518232810678538242