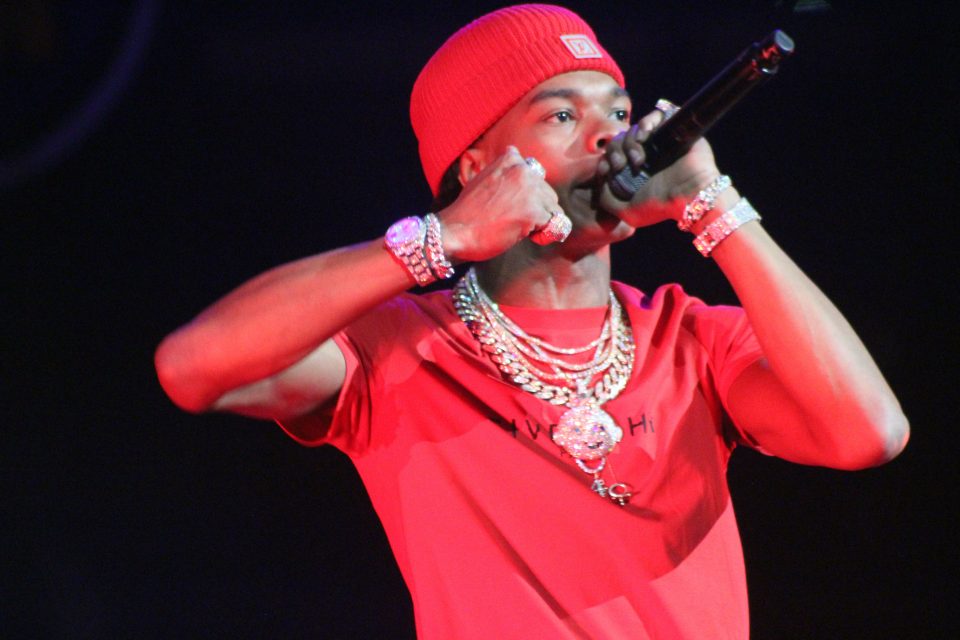 Rap superstar Lil Baby showed concern for a fan after he was sent flying through the air and crashing head-first into metal barricades after he stormed the stage on Sunday, July 10, 2022.
Lil Baby was performing at the 2022 Openair Frauenfeld festival in Switzerland on Thursday, July 8, 2022, though the video of the fan flying through the air didn't reach cyberspace until Sunday afternoon. 
In the video clip taken by a member of the staff, the Atlanta rapper was rocking out on the mic when suddenly an overzealous fan emerged on the right side of the stage and ran up to presumably hug Lil Baby. 
Obviously, the fan did not brace himself because security ran up on him and shoved him so hard off the stage that he literally flew headfirst into the barricade protecting the crowd.
This is even how the dog used to dash Tom in Tom & Jerry 🤣🤣 #LilBaby pic.twitter.com/tpRUmUWgPY

— Bradz 🇬🇭 (@b_kusi19) July 10, 2022
Another security person reportedly helped the man to his feet. But there is no word if the fan sustained any injuries during his clumsy crash into the immovable barrier. 
Lil Baby, 27, whose real name is Dominique Armani Jones, paused the show to check on the welfare of the fan, who remained on the ground momentarily based on the angle that Lil Baby looked down at him.
#LilBaby stopped his performance to check on the fan that got thrown off the stage literally 🫣🥴.

He's such a class act 😅 pic.twitter.com/f0xfLzRQpR

— Tea With Tia ☕️ (@_TeaWithTia) July 10, 2022
Either some fans fail to pay attention to the headlines or the "My Turn" rapper inspires such adulation that some fans cannot help themselves. In September 2021, an overzealous fan rushed the stage in Charlotte, North Carolina, in a video that also went viral. Not long thereafter, two security guards had to return to the stage and manhandle another fan who was tackled and then dragged off. 
Some Lil Baby fans had jokes about the episode that could have ended badly for the wayward fan.
🌹👁🌹🤣🤣👀FAN RAN ON STAGE AND #lilbaby SECURYTY SAID NOT TODAY BRUH👀🤣🤣🌹👁🌹🙏🏽💯😊🤣🤣👀 #LilBaby #sellingcontent #Security #Concert pic.twitter.com/FafLd5mMKm

— Mccanttammy (@mccanttammy) July 10, 2022
I'm here to SAVE YOU TIME,
Perfection DOESNT exist! ❌🚫
~#ezmoneyash #trucks #grindmode #lilbaby #business #businessowner #businesswomen pic.twitter.com/9RfYqO0J3q

— EZ Money Ash (@ezmoneyash) July 11, 2022
The debate also broke out that the bodyguards were reckless and excessive in defending Lil Baby and that it could have ended with a more unfortunate outcome for the fan.
Legal Analysis:#LilBaby bodyguards are contracted to protect him. There's a defense in the law called, "defense of others." This is when someone steps in to defend someone else. Here, though it looks like his bodyguards used excessive force, an argument could be made that it pic.twitter.com/HqUGzBUoL9

— Taalib Saber (@MfalmewaU) July 10, 2022
Seriously ?!

Ok…so a fan went on stage

But security didn't have to treat him like

He could have broken his neck😯#LilBaby https://t.co/XZmw7Dussl

— and the livin's easy (@madamyez) July 10, 2022