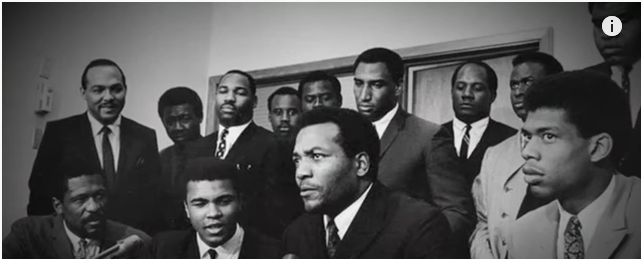 Bill Russell, the colossus NBA player and civil rights advocate who arguably accomplished as much as any athlete in American history, has died at age 88.
With numbers that still confound his contemporaries in the athletic world, Russell won an unprecedented 11 championships in 13 years with the Boston Celtiics in the 1960s, including the historic distinction of winning a title as a player-coach. Before that at the University of San Francisco, Russell was a two-time All-American, won two straight NCAA championships and led the team to 55 consecutive wins. He also earned a gold medal at the 1956 Olympics.
But Russell may be just as famous for his willingness to speak up multiple times during the apex of the Civil Rights Movement — combined with the racial indignities that he endured in Boston while winning — that made Russell a beloved figure, particularly in the Black community.
"But for all the winning, Bill's understanding of the struggle is what illuminated his life. From boycotting a 1961 exhibition game to unmask too-long-tolerated discrimination, to leading Mississippi's first integrated basketball camp in the combustible wake of Medgar Evans' assassination, to decades of activism ultimately recognized by his receipt of the Presidential Medal of Freedom in 2010, Bill called out injustice with an unforgiving candor that he intended would disrupt the status quo, and with a powerful example that, though never his humble intention, will forever inspire teamwork, selflessness and thoughtful change," the statement from the Russell family reads on Twitter.
An announcement… pic.twitter.com/KMJ7pG4R5Z

— TheBillRussell (@RealBillRussell) July 31, 2022
NBA Commissioner Adam Silver concurred with the family's sentiments as he called Russell the "greatest champion in all of team sports" who "stood for something bigger than sports."
NBA Commissioner Adam Silver's statement regarding the passing of Bill Russell. pic.twitter.com/3BcZDnKjxK

— NBA (@NBA) July 31, 2022
Following the news of Russell's death, a plethora of upper echelon NBA players and sports dignitaries paid homage to an incomparable and unsurpassable American athlete.
My deepest condolences to the family, loved ones and the @NBA community on the loss of the greatest champion we've ever known: BILL RUSSELL. An activist, a pioneer, a humanitarian. He made the world better for us all.#RIPCHAMPION

— Stephen A Smith (@stephenasmith) July 31, 2022
So sad to hear of the passing of one of the all time greats…sending love and condolences to the Russell family.🙏🏾💚 https://t.co/svL2dlXT8v

— Robin Roberts (@RobinRoberts) July 31, 2022
Legends are forever.

RIP Bill Russell, truly a titan of our game. pic.twitter.com/EKpLABwzmT

— Chicago Bulls (@chicagobulls) July 31, 2022
Thank you for everything! R.I.P Legend 🙏🏽 pic.twitter.com/tn2iGsArav

— Jayson Tatum (@jaytatum0) July 31, 2022
Bill Russell was my idol. I looked up to him on the court and off. His success on the court was undeniable; he was dominate and great, winning 11 NBA championships. Off the court, Bill Russell paved the way for guys like me. pic.twitter.com/ZMIrEx8Tne

— Earvin Magic Johnson (@MagicJohnson) July 31, 2022
I'm honored to be able to have spent time with you @RealBillRussell thank you for everything you stood for you #forever6

— Jaylen Brown (@FCHWPO) July 31, 2022
Thanku for being a trailblazer , pioneer Thanku for setting the bar , for ur kind words of wisdom, Thanku for that great laugh u had . I can go on all day about what u meant to me . Today is a sad day for the NBA family u will be forever missed #6

— Paul Pierce (@paulpierce34) July 31, 2022
Rest in peace Bill Russell you were everything we all aspired to be, your winning spirit will live forever my friend. Thank you for your words of wisdom. pic.twitter.com/rBjFS6nhzW

— Isiah Thomas (@IsiahThomas) July 31, 2022
Bill Russell was a treasure as a player, coach and especially as a human being. @Lakers and @celtics fans can agree on this today. 😔💜💚😔 https://t.co/TTDfp9w8Zq

— Jeanie Buss (@JeanieBuss) July 31, 2022