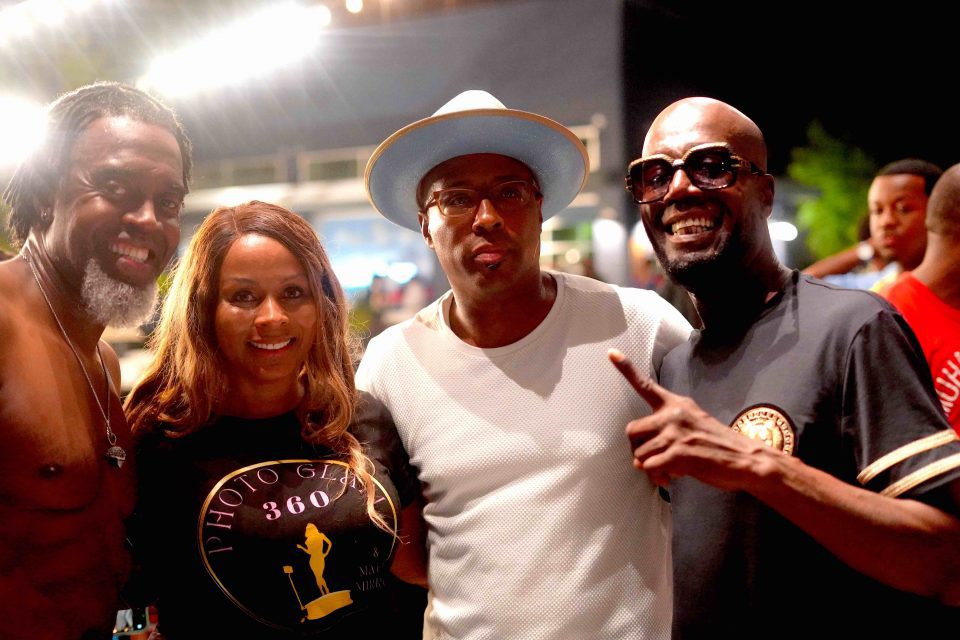 Aaron Hall and his brother Damion Hall decided there was no better way to celebrate Aaron's 58th birthday other than to be on stage in Georgia, performing at Nouveau Bar & Grill's staple event "R & B Thursdays in the city of Jonesboro." Fans never doubted Aaron Hall's ability to deliver vocally despite the fact he has taken a break from all performances for the past three years while healing his body. Although the weather was terrible and it rained the better part of the evening, die-hard R & B fans waited out the rain in the covered patio section of the restaurant until the veteran R&B duo arrived.
The minute the host, Condo of the Mimosa Jam, announced the brothers had arrived and were heading on stage, concertgoers began migrating to their seats in the open area of the courtyard. As fate would have it the drizzles of rain that threatened the performance quickly faded away and Aaron Hall kicked off the night with his iconic classic "Let's Chill." Crazy Legs aka Damion Hall has been working on his vocals and showed off his singing ability throughout the show.  It was obvious there was a missing piece to this musical duo; the legendary new jack swing creative and musical genius Mr. Teddy Riley wasn't present.
Teasing the crowd with a familiar tune, "Teddy's Jam," Hall asked the fans if they wanted him to proceed with the song? The crowd responded with a resounding, yes. It was at this point in the program when Aaron Hall explained that Teddy Riley was still in Africa and prompted the fans to bellow out in unison a heartfelt "we love you Teddy Riley." A medley of songs from Guy's discography ensued afterward. The "I miss you" artist made a surprise announcement that Los Angeles was not the place he intended to continue residing and he would be moving to Atlanta, permanently in September. Damion Hall and Aaron also made sure fans knew that the group "GUY" would also be touring starting February 2023.
There was so much excitement throughout the evening. Not only did Nouveau Bar & Grill collaborate with "Black Restaurant Week" and Stella Artois offering complimentary beer and bites; Aaron Hall celebrated another year of life after an unexpected health scare. Damion Hall was in awe of the performance and the turn out of fans considering the inclement weather, and the fact it was the first live performance with his brother in over three years.
Check out the photos after the break,