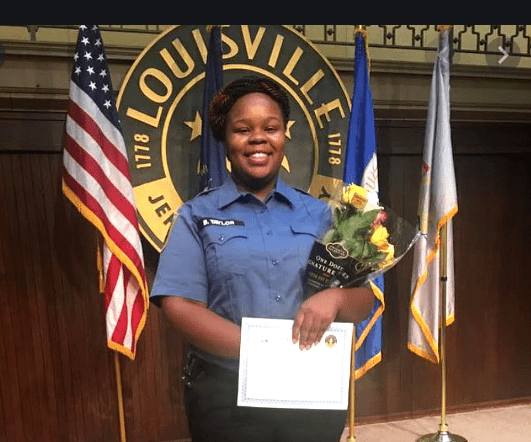 A former Louisville, Kentucky, detective pleaded guilty to lying to a judge about her role in the Breonna Taylor raid. On Aug. 23, Kelly Hannah Goodlett pled guilty to one count of conspiracy. Goodlett was accused of working with another detective to lie on the warrant that led to the fatal raid and covering up the fact they lied on the warrant.
Goodlett, 35, has a sentencing hearing on Nov. 22. She faces five years in prison, a $250,000 fine and three years of supervised release, according to the Courier-Journal.
Goodlett had to surrender her passport once she pled guilty. She was one of four former Louisville Metropolitan Police Department officers charged for their involvement in the 2020 raid of Taylor's home.
Taylor, a 26-year-old Black woman, was struck by at least five bullets in the hallway of her apartment on March 13, 2020, after at least seven officers entered the dwelling based on a no-knock warrant. The officers were investigating a drug-dealing operation. Taylor's boyfriend fired one shot at the officers, who he said he thought were intruders before the cops fired 32 shots.
"For two years, our community publicly questioned the deadly no-knock warrant that LMPD officers used in the unjust killing of Breonna Taylor," attorney and civil rights advocate Ben Crump tweeted on Aug. 24. "FINALLY, we're receiving answers. Officers should've NEVER been in her home, and Breonna SHOULD be alive today!!"