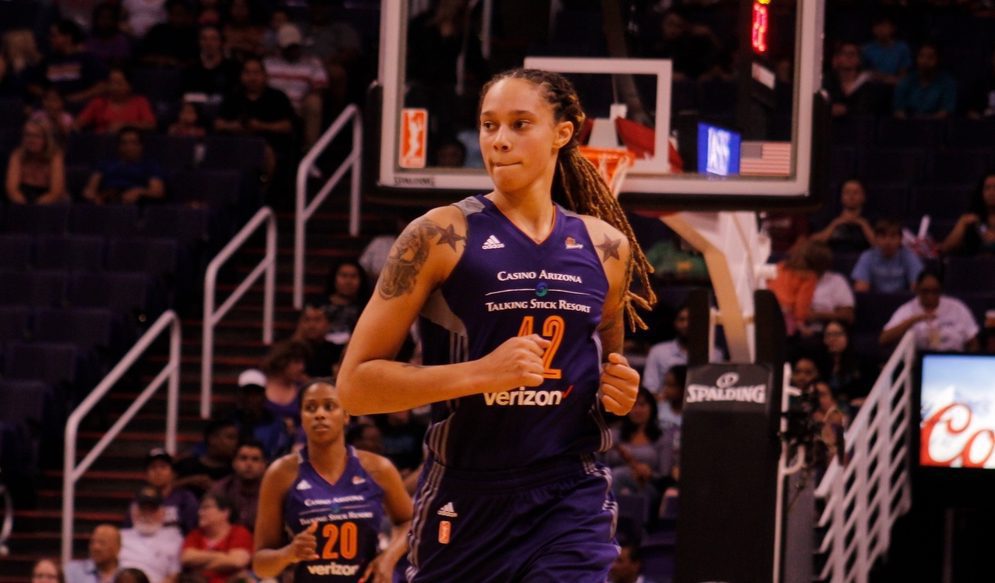 Brittney Griner appears to be ready to get right back to her civilian life routine. The 32-year-old WNBA legend boarded a plane on Friday, Dec. 9 to bring he back home from a nearly 10-month stint in a Russian prison. She reportedly was anxious to speak with the ambassador who escorted her home along with members of the flight crew because she wanted to hear and speak English since all she'd been hearing for the past 10 months was Russian.
The Olympic gold medalist has been locked up in Russia since February after officials found vape cartridges and hash oil in her luggage. Griner flew into Russia from New York when officials found the illegal substance in her possession. The arrest happened right before Russia invaded American-ally Ukraine. Griner was going back to Russia because it's where she plays basketball in the WNBA offseason for $1 million a year. Over the summer, Griner pled guilty to possession charges and was sentenced to serve nine years in a Russian prison. On Dec. 8, America agreed to a deal with Russia to swap Griner for arms dealer Viktor Bout, who had served 10 years of his 25-year sentence in America.
Griner is reportedly at Fort Sam Houston in San Antonio. After the flight home the Phoenix Mercurycenter had a private basketball workout on the base and her first action back on the court was a dunk. It was the first time Griner played any form of basketball in 10 months, ESPN correspondent T.J. Quinn reported. While she was in a Moscow jail, she declined requests to be given a basketball because she didn't want to think about the game that had been taken from her for months.
Despite the workout shortly after landing in America, Griner hasn't made a decision on whether or not she's returning to play in the WNBA or professional basketball at all.
As of Dec. 11, Griner hasn't spoken publicly yet, but is expected to make a statement this week, according to her agent Lindsay Kagawa Colas.