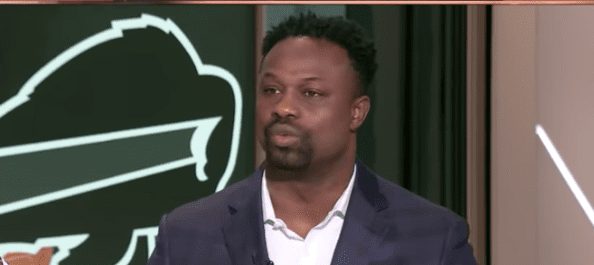 Bart Scott, a former NFL player-turned-ESPN analyst, is ducking for cover after an overwhelming wave of condemnation came at him for blaming the Bengals' Tee Higgins for the injury that put Damar Hamlin on a breathing tube in ICU.
Most Americans, even non-football fans, are aware that Hamlin suffered cardiac arrest during the "Monday Night Football" game on Jan. 2. The 24-year-old Buffalo Bills safety made what appeared to be a routine tackle on Bengals wide receiver Higgins. After getting up to his feet, he immediately crumbled to the ground and had to be revived on the field via CPR and a defibrillator.
Hamlin is now reportedly breathing 50 percent oxygen, according to NFL.com, versus the previous night when he needed 100 percent help to breathe.
The public ire is now trained on Scott for suggesting that Higgins is to blame for what is universally considered a one-in-a-million freak accident.
"Offensive players can't use the crown of their head — helmet — as a weapon, which is kind of what Tee Higgins did and I'm not trying to put the blame on Tee Higgins, but that's something that they tried to take out," Scott said on ESPN's 'First Take' sports show. 
Stephen A. Smith, the host of the show, asked for clarification, noting that it was unintentional by Higgins.
"Right before the tackle he lowers his helmet and he kind of throws his body into his chest. He's standing up because he thinks he has to chase Tee Higgins at an angle to make a tackle so he didn't expect Tee Higgins to launch his body back into him."
On ESPN, Bart Scott blamed #Bengals WR Tee Higgins for the incident with Damar Hamlin.

That is totally ridiculous, what happened was a freak accident.pic.twitter.com/5Sbh3GxslC

— Dov Kleiman (@NFL_DovKleiman) January 3, 2023
Here is the full segment that featured guest analyst Scott:
The criticisms of Scott were far and wide and included current NFL players as superstar Dallas Cowboys defender Micah Parsons:
Yoo are we serious?!!?why do we let some people speak on tv?! This was a freak incident but putting fault on another player is wild! They should make some of these guys go over lines or something or not even give them a seat at the table! https://t.co/ctJVfu6cuf

— Micah Parsons (@MicahhParsons11) January 4, 2023
Even fellow ESPN show host Max Kellerman and Fox Sports Colin Cowherd clapped back at Scott:
There were others who also hammered Scott for his reckless wording:
Today, Bart Scott, live on air, blamed Tee Higgins for last nights tragic event.

Let's rewind just over a year- to week 16 last year, when Bart had this to say about Burrow.

"He gonna get the rib shot, he gonna get the head shot, he gonna get the neck shot"

It's disgusting. pic.twitter.com/mSTJQwucSq

— x-The Nati King (@thenatiking) January 3, 2023