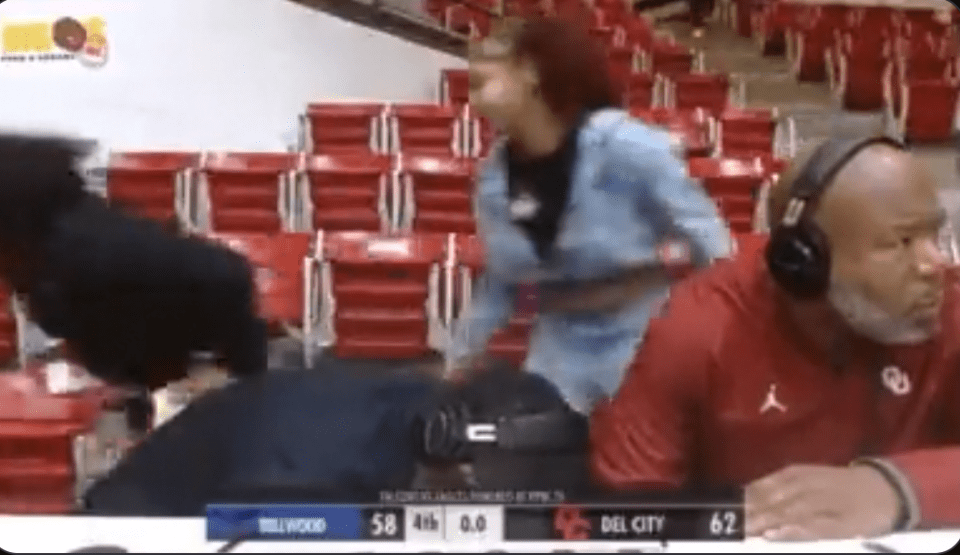 There was a scary scene following the conclusion of the Del City-Millwood game in Oklahoma on Jan. 17. As broadcasters were recapping Del City's 62-58 win, the commentary was interrupted by what sounded like gunshots. One commentator sent the game to a commercial break as both announcers ducked under the scorer's table. Parents, cheerleaders and students alike fled the gym in the background.
This is crazy too many kids and families in the gym. Come people we gotta do better. I pray no one was hurt.🙏🏾 pic.twitter.com/rI3vxtxPSz

— Coach Ty (@HeavenlyGifted) January 18, 2023
Del City principal Steve Gilliland said a fight occurred before the shooting. Police told local ABC affiliate KOCO5 that shots were fired inside and outside of the gym. Police also confirmed one adult male was shot, and he was not a student at the school. The Del City Police Department is still looking for the suspect, as of the morning of Jan. 18.
There were at least 500 people in attendance at the game, police also confirmed. Del City High School had a day of virtual learning on Jan. 18 following the incident.
"Thank you, guys, for praying for us from both schools," Millwood senior basketball player William Mays tweeted. "I thank God for keeping my Millwood and Del City families safe! I pray for the people involved to realize that HAVING a gun don't make you popular! All we can do is pray that one [day], they will understand!"