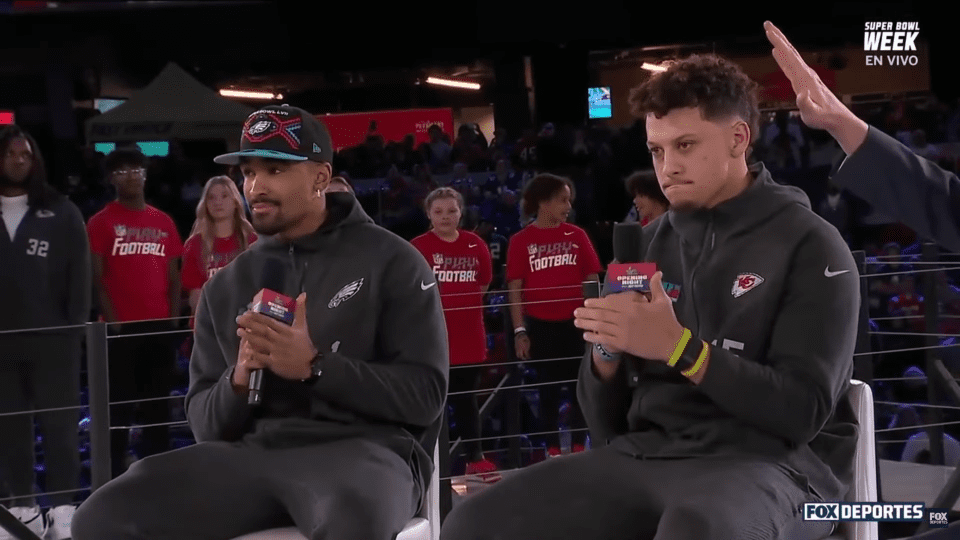 As we draw closer and closer to Super Bowl LVII and the focus continues to center around star quarterbacks Patrick Mahomes and Jalen Hurts, let's take a moment to give props to the men who raised them.
"The narrative of absent Black fathers is constantly pushed in the media," ESPN analyst and former quarterback Robert Griffin III tweeted on Feb. 6. "Looking forward to all the Super Bowl Week deep dives into the upbringing of Jalen Hurts and Patrick Mahomes, who had present fathers, do the right thing and talk about Averion Hurts and Patrick Mahomes Sr."
Mahomes Sr. was a Major League Baseball pitcher for 11 seasons, including stints with the Minnesota Twins, Boston Red Sox, New York Mets, Chicago Cubs and Pittsburgh Pirates.
"I wasn't upset [about his choice], I guess the word would be I was disappointed," Mahomes Sr. told Ashley Moore of CBS19 in Texas. Both Mahomes and Hurts played high school football in the state. "I always thought he was going to be a baseball player, and I could see it start to turn a little bit once he got to his senior year and he was having so much fun playing the game. You know how Texas football is."
Averion Hurts is the Channelview High School head football coach. Averion trained Jalen growing up, which led to his son's success in the sport.
"You get in there, you start playing, he starts growing and just hopes he has the opportunity to go to school for free, "Averion told "CBS19." "Because I didn't have a college fund, so you know that's all I cared about. Once he got his first offer, it was an opportunity, I knew he'd go get an education and do better for himself. Everything after that, that was on him."
Averion gave only one guarantee for the historic game, which features two Black starting quarterbacks for the first time ever.
"I can pick a winner," Averion said. "I guarantee you the winner will be a Black quarterback from Texas."
Ryan Clark is another ESPN analyst who gave Averion and Mahomes Sr. their flowers on the national airwaves.
Patrick Mahomes Sr, & Averion Hurts are present fathers that raised great men. The narrative of the absent black father is pushed through the media. So, let's remember to push this as well. Salute to you both for changing the narrative. I know Jalen & Patrick appreciate you. pic.twitter.com/yFyLbzDmy1

— Ryan Clark (@Realrclark25) January 30, 2023
"So many times, the narrative about Black fathers and about Black families is that they come from broken homes, or they have these stories they want to tell at the Super Bowl," Clark said. "Well, let's tell this story … I think so many times we focus on the big picture, and we miss the small picture talking about the NFL has come so far as it pertains to this position [quarterback], also, how these men were raised by their fathers and now what they do in these locker rooms. So congrats to Patrick Mahomes and Jalen Hurts, and also their fathers and their mothers for raising excellent men and excellent leaders."