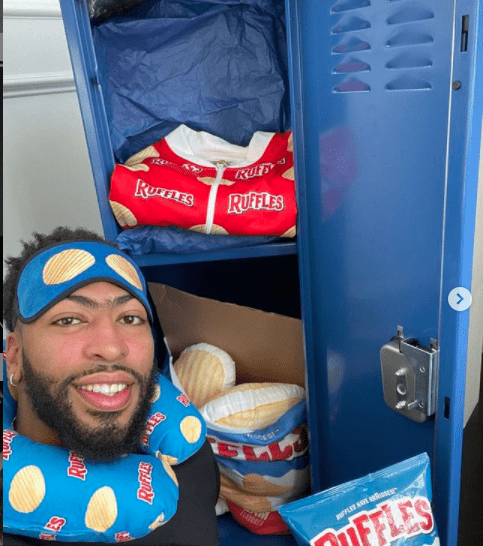 Crypto.com Arena in downtown Los Angeles erupted with a burst of ecstasy when LeBron James finally passed Kareem Abdul-Jabbar to become the all-time leading scorer in NBA history.
The multitude of fans were overcome with bliss at the monumental moment. That is, everyone except for James' closest teammate Anthony Davis. While his Los Angeles Lakers teammates exemplified jubilance at the very moment that LeBron hit the historic shot against the Oklahoma City Thunder, AD was sitting on the bench, motionless and emotionless.
ANTHONY DAVIS💀!!#LakeShow pic.twitter.com/NlNYSi9CkF

— iGor (@1zrte) February 8, 2023
Many fans and sports pundits found AD's behavior peculiar and disturbing. King James is the one who is credited with rescuing AD from NBA purgatory by demanding the Lakers trade him away from the moribund New Orleans Hornets to play alongside him. Together, LBJ and AD led the Lakers to the 2020 NBA championship. They seemed to the be closest of friends.
Since then, however, things have been rocky as AD has been chronically injured and has not been able to truly display his generational talent. The Lakers have suffered accordingly, getting bounced in the first round of the playoffs in 2021 and not even making the postseason in 2022.
Now that he is healthy again, folks are disturbed by what they characterize as disrespect as he sat as motionless as a potted plant while his teammates were supercharged by King James' momentous feat.
What's going on with Anthony Davis? pic.twitter.com/qvxDDZc0SM

— Lakers All Day Everyday (@LADEig) February 8, 2023
Later that night, or perhaps it was a pre-recording, Davis congratulated James on his phenomenal career that culminated in the scoring milestone.
"Anthony Davis wasn't happy for LeBron breaking the record tonight" pic.twitter.com/KSjbT0ME03

— 🌟Fake (@LALeBron23) February 8, 2023
The AD video did little to squelch the Twitter chatter as he was called everything from "jealous" by ESPN's NBA analyst Jalen Rose to "bitter" by Fox Sports sports analyst Chris Broussard.
Black Twitter, of course, made its feelings known.
Anthony Davis mood last night👀
And Imagine Kevin Durant and Lebron James on same the team 🔥🔥 pic.twitter.com/1qGVIRofXx

— ibou 𓃮 (@teamibou23) February 8, 2023
Lakers fans were concerned with Anthony Davis tonight, especially with his reaction to LeBron James' record-breaking jumper.

Davis scored just 2 points in the 4th quarter and 6 in the 2nd half 🤔

(via @AnthonyIrwinLA) pic.twitter.com/K6KctdsthP

— ClutchPoints (@ClutchPointsApp) February 8, 2023
Even the Los Angeles Lakers' Anthony Davis doesn't give a crap about LeBron's achievement. pic.twitter.com/mnP0StIfOL

— mattman (@MatthewPorter) February 8, 2023
A picture is worth 1000 words. This dude #AnthonyDavis is a pure hater. It always be the ones closest to you. Nigga hate the 👑 'cause he ain't the 👑 smh. Shout out #LeBronJames 🐐🐐greatest of all time! #LakeShow AD salty😂 ⬇️⬇️ trade him! pic.twitter.com/waD02rXUkR

— yogi (@yogijackson26) February 9, 2023
Anthony Davis was down bad at this moment. #Lakers #LeBronJames #AnthonyDavis pic.twitter.com/X8pgTz4Swy

— Ramon (@bodyxramon) February 8, 2023
This is why #AnthonyDavis didn't celebrate LeBron breaking Kareem's scoring record! pic.twitter.com/KBVIZL8qEw

— HangTime (@HanginHeadlines) February 8, 2023
This is why #AnthonyDavis didn't celebrate LeBron breaking Kareem's scoring record! pic.twitter.com/KBVIZL8qEw

— HangTime (@HanginHeadlines) February 8, 2023