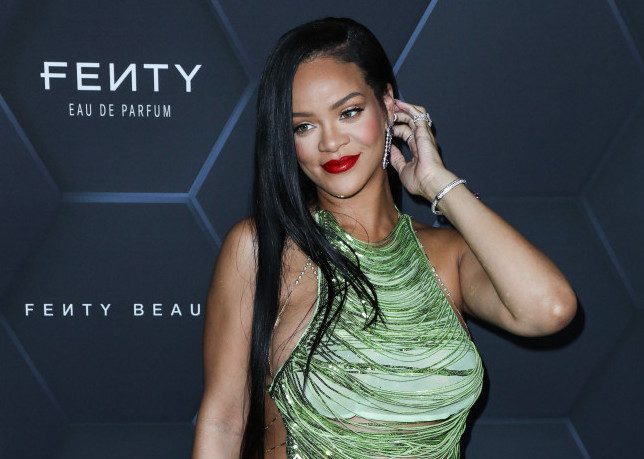 Every year, the Super Bowl is a bona fide ratings bonanza which easily destroys all competition on television. It is, by far, the most watched program in the United States, attracting nearly 100 million viewers annually.
This year, however, Super Bowl LVII on Sunday, Feb. 14, 2023 attracted a much wider viewership to become the third-most watched show in the history of American television with 113 million viewers, according to Nielsen.
Despite that enormously impressive television stat, Rihanna actually shined brighter. The bodacious Barbadian beauty attracted even more viewers than the Super Bowl itself. The "Rude Boy" singer's visually spectacular Super Bowl halftime show garnered 118.3 million viewers during intermission.
⭐️ SHINE BRIGHT ⭐️

Sunday's #SBLVII #AppleMusicHalftime show featuring #Rihanna delivered 118.7 million viewers. pic.twitter.com/VCCccEWWAW

— FOX Sports PR (@FOXSportsPR) February 13, 2023
The savvy Rihanna, 34, used the mammoth Super Bowl platform as a baby reveal. Early on in her performance, where the record-breaking singer reeled off many of her No. 1 Billboard hit songs, Rihanna rubbed her growing belly a few times to signify that she and boyfriend A$AP Rocky are expecting a second child in rapid succession. That rubbing gesture and very apparent baby bump incited a near riot on Twitter and other social media platforms.
According to Yahoo! Sports, who derived the numbers from Nielsen Ratings, Bad Gal RiRi's performance was the second-most-watched halftime show ever behind the Katy Perry/Left Shark spectacle of 2015. Just behind Perry and Rihanna, with 117.5 million viewers, is Lady Gaga's 2017 halftime show.
Bruno Mars' solo show in 2014 gathered a total of 112.2 million viewers and is next on the list. 
Madonna has the fifth-largest Super Bowl halftime show viewership with 111.4 million viewers in 2012. She invited guests LMFAO, Nicki Minaj, CeeLo Green, and M.I.A. and collaborated with Cirque du Soleil for her 12-minute-long set.