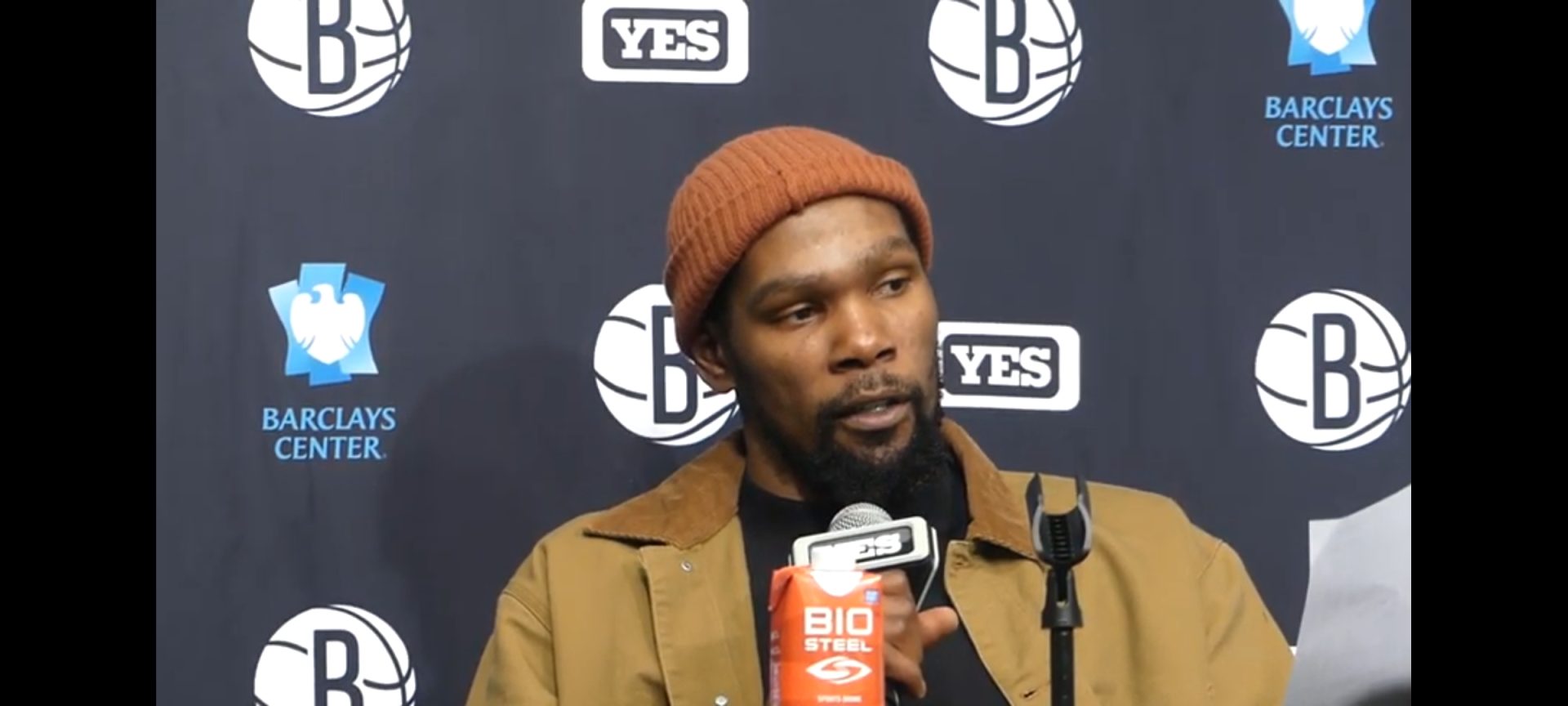 Kevin Durant got emotional when discussing his time with the Brooklyn Nets in his introductory press conference with the Phoenix Suns. During the Feb. 16 conference, Durant reflected on his three-and-a-half seasons with the Nets.
"It was a lot of ups and downs, but I loved the grind," Durant said, during a live broadcast on ESPN. "Everybody in Brooklyn loved the grind, too, so I built a family over there. They're always going to be a part of my journey."
Durant's career started in 2007 with the Seattle Supersonics. When the Sonics moved to Oklahoma City, and renamed the franchise the Thunder, Durant was the face of the franchise until July 2016, when he announced he was signing with the Golden State Warriors. With the Warriors, he won his first two NBA championships before departing for Brooklyn in 2019. The big draw with the Nets was the pairing of him and fellow NBA champion star Kyrie Irving.
Durant missed his first season in Brooklyn due to an Achilles injury before returning to the court in December 2020.
"We didn't accomplish what we wanted to accomplish as far as winning a championship, but I enjoyed the grind," he said. "Everybody there, we tried our hardest every day regardless of what was going on in the media, what was going on with our teammates, everybody who was in that gym, we grinded."
Durant's voice began to choke up. "I love those guys," he said. "I get emotional talking about them because that was a special four years in my career coming off an Achilles [injury] and they helped me through a lot. So yeah, it was terrible how some stuff went down, but at the end of the day, I love the grind. We all loved the grind there in Brooklyn, I wish them the best going forward, they have a bright future."
"It was a lot of ups and downs, but I loved the grind… I love those guys. I get emotional talking about them because that was a special 4 years in my career."

Kevin Durant got emotional talking about his time with the Netspic.twitter.com/CoBJUEaMxi

— ClutchPoints (@ClutchPointsApp) February 16, 2023
In addition to Irving and Durant, the Nets landed star guard James Harden to create a powerful big three. The trio only played 17 games together, however. Harden was traded to the Philadelphia 76ers, Irving went to the Dallas Mavericks and Durant went to the Suns.
"We just didn't get on the court enough," Durant said. "I think when you saw James, Kyrie and myself, it was amazing basketball for 17 games, though. In order for you to win a championship and to be a great team, you just need more time on the floor. It's another story about why we didn't get on the floor together, but we just didn't get enough time on the floor. Those are Hall of Fame players I learned a lot from every day, and I'm wishing them the best as well."