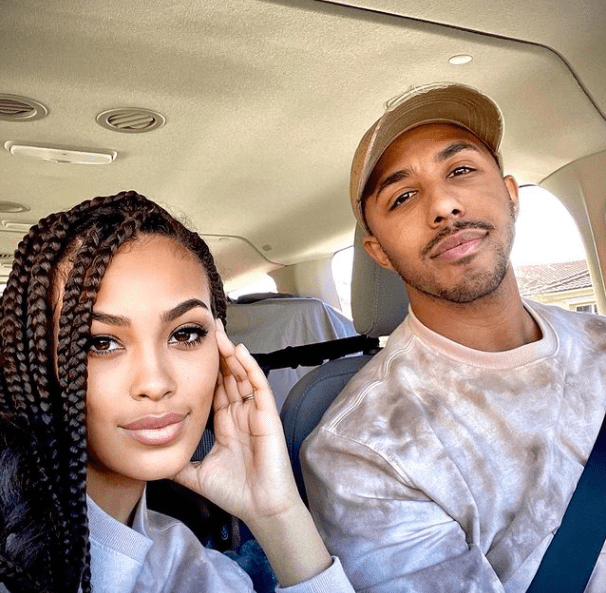 Former Immature group singer Marques Houston is being batted around the Internet in the aftermath of his discussion on how he met a 17-year-old girl, Mya, when he was 37 and then married her when she turned 19.
Houston assures audiences on the latest episode of the ultra-popular TV One series "Uncensored" that nothing inappropriate happened and they didn't have a spiritual connection until she became of legal age.
"Me and my wife's situation is a little different. How we met through mutual friends and everything like that," Houston explains in the clip. "When I met my wife, she was 17. So … really conversation … really no connection until … you know … she was of age."
Real. Raw. #Uncensored. Featuring @marqueshouston! Marques Houston is telling his story his way in an all-new #UncensoredTVOne, premiering Sunday at 10p/9c only on @tvonetv. 🎥🍿 pic.twitter.com/BsQZlHlI4a

— TV One (@tvonetv) April 4, 2023
While social media trounces Houston for bonding with a teenager 20 years his junior, he explains that there was an undeniable bond and shared religious beliefs.
"People don't understand it and I got a lot of backlash for marrying someone that was 19. When we did finally start to talk I was like, 'This woman is like me,' and when I would talk to her … we had a spiritual connection and I feel like that's the most important thing. We both love God. We both love Jehovah and that was key," Houston explains. 
"Being able to start being around her and talking to her we connected through music," Marques said. "Her spirit, her kindness, her heart reminds me a lot of my mom. You know we connected on so many different levels."
https://www.instagram.com/p/Cey2EUJpnk0/?utm_source=ig_embed&ig_rid=7f6512b9-7ac8-4ba5-a287-9cbb429bc00f
Social media, however, is not feeling Houston's explanation and savaged him anew such characterizations as a "pedophile" who has "R. Kelly" tendencies.
Marques Houston said he met his wife when she was 17. I need yall to know that cradle watchin a child & waitin til they legal is still predatory & pedophilic. All that means is you was sexually attracted to them when they was still a kid. A patient pedophile is still a pedophile

— Night Skin Nerdy Girl (@NightSkinGirl88) April 5, 2023
Somebody tell marques Houston unlike his wife, we were not born yesterday…. Dude definitely was channeling Rkelly energy when he married Aaliyah.

— Ronnie Lo (@RonnieLo10) April 5, 2023
https://twitter.com/stefanbertin/status/1643722584717139968
Marques Houston groomed and married his wife who is over 20 years younger than him that he met when she was 13 https://t.co/eVShQ9BJRD

— ♕ Marlo's Dresser Money 🤐 🗣️🦂♈️ (@DinahstySZN) April 4, 2023
#MarquesHouston Like Sir Stop 🛑 It! You can't justify messing with a 17 girl at 36, the fact that you are is disturbing and disgusting in itself…Just stop explaining it cause you making it worse…#YouWrongAsHell #GodAintGoShitToDoWithIt

— SkoolBoi (His/Him/He) (@Skool_boi) April 5, 2023