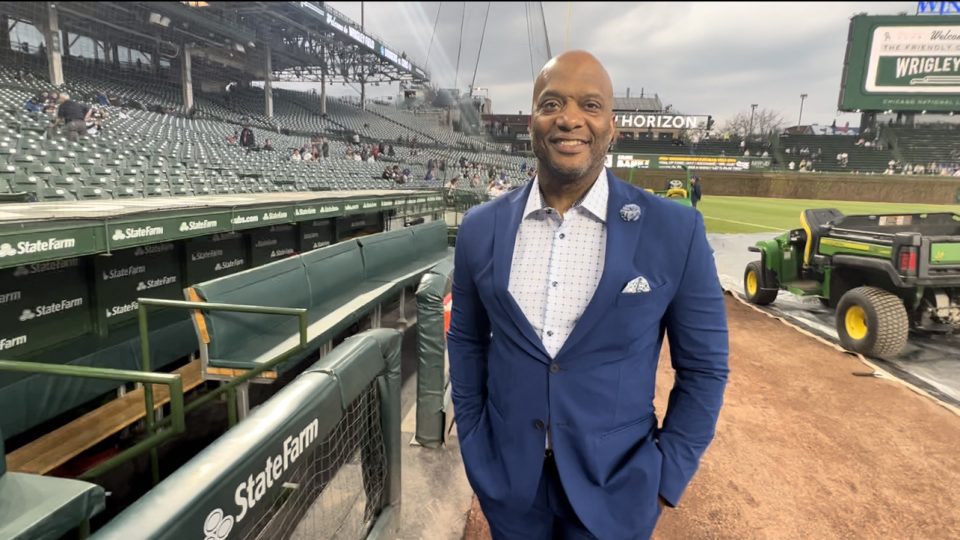 On Thursday April 20, 2023 the Chicago Cubs celebrated the life and legacy of baseball legend Jackie Robinson. In 1947 Jackie Robinson joined the Los Angeles Dodgers as the first Black man to play baseball in the major leagues. The Cubs flew "42" flags around the Wrigley Field Marquee and roofline. The Black national anthem and national anthem were sung by NBC's "The Voice" contestant Sa'Rayah. The Cubs also recognized 100 Black Men of Chicago Inc for their mentoring of Black youth through education, health and economic empowerment. Rolling out spoke with the Senior Vice President of Communications for the Chicago Cubs Julian Green about the significance of Jackie Robinson day and why it's important.
Talk about the significance of Jackie Robinson Day?
The first piece I'll tell you is that you are standing in one of only two ballparks that are still in existence that Jackie Robinson played at back over your right shoulder and the visitor's dugout, that's still the same dugout, same concrete steps that Jackie Robinson walked up. It is amazing to not only be here, but work here as part of this organization that's steeped in not only Jackie Robinson history, but Black history when you talk about Ernie Banks and Fergie Jenkins and Billy Williams.
What is unique about the Cubs celebration?
One of the things that I think our fans should be excited about is our partnership with 100 Black Men of Chicago. We did a special ticket offer and so proceeds from those ticket sales went to support the 100 Black Men of Chicago. We are happy to support their organization, which is building the next generation of Black men and women leaders. The programs that they have in the neighborhoods and the mentoring that they do is just tremendous. And we're just happy to support that as we try to continue to honor, recognize Jackie Robinson's legacy.
So from your perspective, why is it important for us to honor Jackie Robinson's legacy?
Jackie Robinson opened the door so that we could come through. I think it is indicative of how sports have an impact on social justice, on the world and society at large. The accomplishments of Jackie Robinson opening that door [and] breaking the color barrier opened up opportunities for African men and women across this country starting in 1947 and beyond. So, it should not be taken lightly because what he did helped open doors for so many in this country.