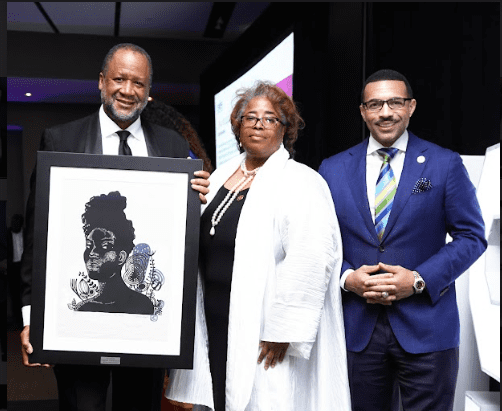 Jena Roscoe is the senior vice president and chief of government relations and public policy at Operation HOPE. She concentrates on
developing, growing, and sustaining international, federal, state, and local government partnerships and alliances in support of Operation HOPE programs and initiatives.
On May 4. 2023, Roscoe was honored by rolling out as a Sister with Superpowers in Atlanta for her work in public policy and financial literacy. Roscoe shared how the aspect of family keeps her going.
Why did you select your career?
In high school, we were groomed to start charting out career goals.  I did the homework assignments and discovered that I enjoyed public relations and communications. It paved the way for me to focus on government relations and public policy.  
As a Black woman, what do you consider your superpower(s) to be? Family. It's the support of my bloodline family, my Operation HOPE family, my #BlackGirlMagic and #BlackMaleMagic family, my civil rights & financial inclusion family, and my public service family. 
What key skills or qualities make you unique as an African American female leader?
The best leaders in life respect the value of teamwork. I love being a part of a positive team that understands the importance of all the members leading in some capacity to its mission. I respect every aspect of the team process in achieving goals and objectives for a team's success.
What thoughtful or encouraging piece of advice would you give to your younger self?
Make more time to enjoy a hobby or two, three, or four in your life. For me, that would mean making more time to leisurely swim and I am focused on that now.
Why is it important for women of color to work in leadership roles and decision-making capacities?
It's important for women of color to work. When women of color work, they learn how to accept and excel in respective leadership and decision-making roles.  
If you could thank any Black woman for her contributions to history and society, who would it be and why?
My mom. I watched her work at higher education national organizations for over 30 years and rise to executive leadership while raising a family through love, determination, and strength. I'm also very thankful for the role that Azie Taylor Morton has contributed to in the federal government financial regulatory world as the first and only African American to serve as a U.S. Treasury Treasurer.
Why is it important for more experienced Black women to reach back and help younger women of color?
It's important to positively work hard, be impactful, and be purposeful to pass on that example to younger generations. The "hope" is they will positively do the same and create a positive lasting legacy of progress in our communities.
As a successful woman in business, what is your greatest or proudest achievement?
Being honored by Sisters with Superpowers and working over two decades around economic empowerment and financial inclusion initiatives with Operation HOPE.