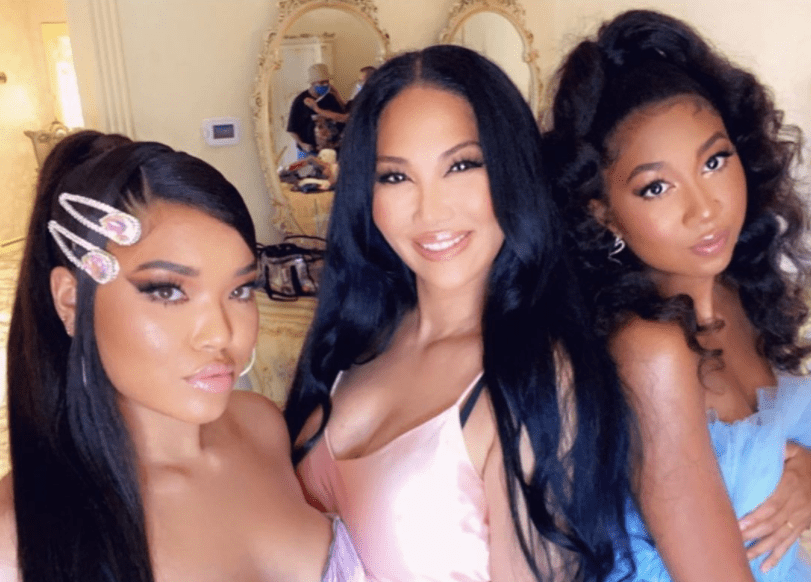 On June 18, 2023, Ming Lee Simmons wished her mom a happy Father's Day on her Instagram Story. The next day, her mom Kimora Lee Simmons went live on Instagram to share the "truth" about her two daughters' relationship with their father, Russell Simmons.
Kimora Lee Simmons discusses her ex Russell's recent erratic behavior on IG live and how it's affect the family. Love you Kimora 🥺💔 pic.twitter.com/mSryXA4boD

— SHEA FROM THE BAY (@SheaFromTheBay) June 19, 2023
"A lot of people here know both of us and they know he's wrong. All the friends have said this, but they still support him. It's just one of those things where he's like this bigger-than-life powerhouse and he just kind of turns and manipulates the press to believe anything," Kimora Lee Simmons said.
The youngest daughter, Aoki Lee Simmons, also posted her feelings about the matter on Instagram sharing muted FaceTime calls and text messages of her father yelling about alleged legal cases and financial issues.
"I've had enough. I know I may lose jobs or whatever I don't even know. I was always a daddy's girl, you can see that in any picture. But he's been awful to me for years and that's just the truth. It's like talking to a cruel child or something, and no he does not financially support me. He hasn't given me a dime in years. I haven't had a graduation gift, a birthday gift, or so much as a taxi ride in years. I do my best. I did not side with anyone over any legal business, he's been directly harmful to me. He tries to get at my mom by hurting us. Since I was 16 or 17, he literally forces me into needing therapy but said sorry he doesn't have one-hundred dollars a month to pay for a session. If I block him or [ask for] some space, he'd harass my boyfriend, and my friends [who are] literally college students. Children," Aoki Lee Simmons shared in her Instagram Story.
Aoki also shared her concern for her dad and claims she is tired of keeping quiet.
"I have done everything I could do since I was 15. I have tried my hardest to not have drama, to be quiet, and [stay] calm for the sake of the family that I love. But I don't know what a person can do at this point. Maybe if I was older I'd know. Some of us do think he's mentally ill or experiencing something like dementia. He really acts like he hates [us] and does not know his children frequently. Prior to his media issues, he was really the best day ever and a great co-parent. He and my mom were best friends. We all defended him against anything, and then he suddenly turned on anyone who will let him lash out. It's a really just terrifying change to watch," Aoki Simmons said.
Kimora Lee Simmons later shared in her Instagram story the concern she has for her daughters.
"I'm so sorry to have to do this, but this man has been threatening my kids' lives. I'm hearing so much more now. We won't be bullied, threatened, or afraid," Kimora Lee Simmons concluded.
Russell Simmons has yet to respond on the matter.
Never thought I'd see the day when Kimora Lee & Aoki deservingly drag Russell Simmons by his scalp. This is a mess..pic.twitter.com/9AmJjzaw5u

— Rachel. (@_loveRachel_) June 19, 2023
Chile Kimora and her kids on airing out Russell….on Juneteenth

— Tasha Mack (@NiqueG_22) June 19, 2023
i think we need to remember that kimora was 14 when she met that man & she is a victim too.

— samantha carpenter 🔪 (@TheHorrorHottie) June 19, 2023