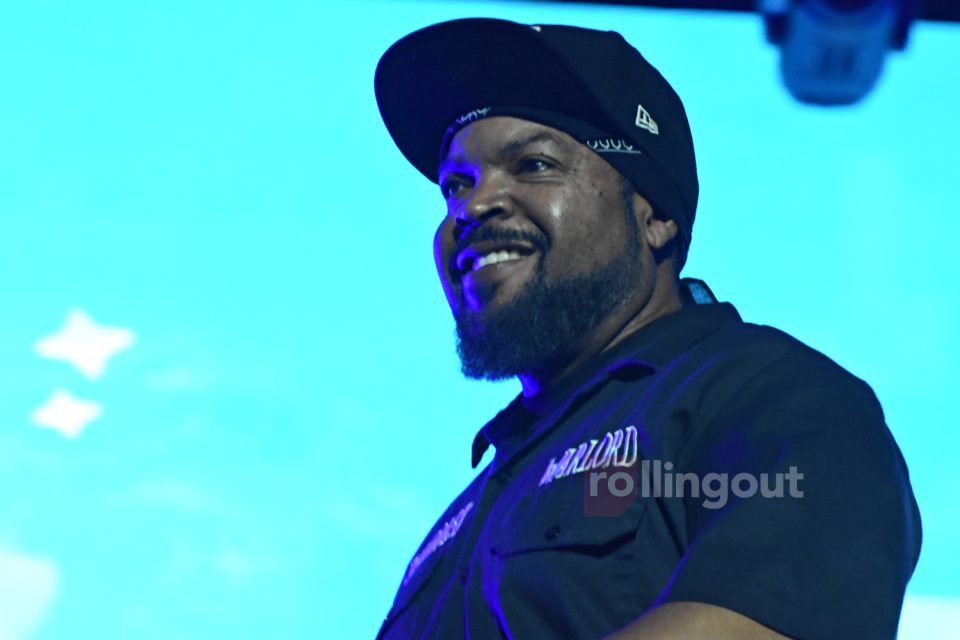 Legendary rapper-turned-filmmaker-turned-political operative Ice Cube took some L's in terms of public perception during the last election cycle when he tried to facilitate meetings with both presidential candidates Joe Biden and Donald Trump.
It is apparent that many folks are still feeling some kind of way about the Barbershop and Friday franchise filmmaker after the son of legendary politician Robert F. Kennedy called Ice Cube "one of our country's most influential and outspoken civil rights leaders."
LOL when did Ice Cube become a civil rights leader? pic.twitter.com/yVoN3m4g3t

— Chris D. Jackson (@ChrisDJackson) July 10, 2023
Robert F. Kennedy Jr. is following the career playbook of his iconic father who was also a lawyer (RFK was U.S. attorney general under his brother, President John F. Kennedy, to be exact) and then transitioned into becoming a presidential candidate prior to his assassination in 1968. This past spring, RFK Jr. announced his candidacy to become the next commander-in-chief.
There are some who champion RFK Jr. for his resolute and rigid stance against the coronavirus vaccine, but there are also some who are repulsed by RFK Jr.
When RFK Jr. assigned Ice Cube the "civil rights leader" designation, it caused more urbanites to look askance at Kennedy and wonder if he is another member of this powerful political dynasty who may leverage the influential Black vote to get into office.
Some of Black Twitter conveyed their disgust at the Big 3 basketball founder being considered a leader in civil and human rights.
LOL when did Ice Cube become a civil rights leader? pic.twitter.com/yVoN3m4g3t

— Chris D. Jackson (@ChrisDJackson) July 10, 2023
is RFK Jr. smoking crack? Ice Cube is what now? pic.twitter.com/A1i4g0ng3p

— greg. 🏳️‍🌈 (@mistergeezy) July 11, 2023
Ice Cube has reached the "I'm gonna support every got damn body but the 'establishment' Democrats!" phase of his life just to prove he's some type of rebel who's off the mythical Democratic Plantation. Sad. https://t.co/8fjakQ5P1K

— Kenny BooYah! 🖖🏾 (@KwikWarren) July 11, 2023
Meet Ice Cube… The Civil Rights Leader……. pic.twitter.com/PHmMnInq4m

— Coming in HOT!🔥😷 Trump: 4indictments/91 felonies (@JAPITTER) July 11, 2023
#RFKJr calling Ice Cube a civil rights leader lets me further know that his campaign is a joke https://t.co/RnyeIib2Tw

— Charles Robert Lee (@CharlesRLee83) July 11, 2023
Since when is Ice Cube a civil rights leader because last time I checked, he was basically working with the Republicans and was getting praises from right wingers and bigots. Besides ice cube is a sellout https://t.co/Usu2fhMFpQ pic.twitter.com/qkuF1zQzd0

— Tiffany Jones 🔜 NY Comic Con (@TiffLexi30) July 11, 2023
Ice cube and killer mike aren't civil rights nothing. https://t.co/KgQxXSsUX7

— Cₕᵢₗdₗₑₛₛ wₒₘₑₙ gₒₜ y'ₐₗₗ ₘₐd😎 (@Blu_Alexia_) July 11, 2023
Lol calling Ice Cube a civil rights leader is like calling RFK Jr. politician https://t.co/Qh8xamvk32

— peoplepowerpodcast (@peoplepowerpod1) July 10, 2023
RFK Jr: Ice Cube is a Civil Rights leader

— Viktor's RenaiSéance (@wondermann5) July 11, 2023
The fact that they believe Ice Cube is our most influential & outspoken civil rights leader tells me everything I need to know. Completely unserious people. The Trump playbook. I guess Lil Wayne & Killer Mike are next on his list. pic.twitter.com/AusD0P99nt

— KD (@Fly_Sistah) July 11, 2023