Rapper DDG was the subject of an insulting hashtag over the weekend after he released a new song "Famous" which details his insecurities about his famous girlfriend's success.
The hashtag "FailedRapper" was launched after the song seemed to reference DDG's girlfriend, Halle Bailey, who was showered with rave reviews after she experienced major box-office success for The Little Mermaid film.
"Famous" is a single from new album Maybe It's Me, and DDG — who was born Darryl Dwayne Granberry Jr. in Pontiac, Michigan, 25 years ago — was apparently ranting about his woman kissing another man: 
"Filmin' a movie now you kissing dudes / You know I love you a lot / I don't give a f— if that s— for promo / I don't wanna see this s— no more."
Fans reflexively swung at the rapper, especially after he suggested in "Famous" that he'd sabotage his career as he said he is wilting under the shine Bailey is getting
"Halle Bailey is a beautiful and talented soul. DDG is very jealous and possessive about her career. The fact that he threatened to hurt her image because he is insecure is a bad sign," a fan surmised. 
A second fan offered another speculation: "Lol that's [wild] failed rapper is still trending. @HalleBailey and @PontiacMadeDDG I feel like [they're] good. If you know DDG you know he's a troll. N if Halle wasn't cool with the song it wouldn't be out. DDG is like 6ix9ine but a good boy," someone speculated.
DDG must have gotten jealous over all the attention Keke's foster son was getting last week and said it was his turn.

— Stormy Day (@cloudyday167) July 14, 2023
I've said it before, but something about Halle & DDG relationship reminds me of Whitney and Bobby. Obviously not the abuse/drugs, but the way everytime Whitney had a moment in her career when she was thriving, Bobby would always end up in trouble, or act up so the attention-

— victorious (@afrorckprincess) July 15, 2023
I also no longer care about the DDG Halle thing either. She doesn't care so what's the point of me caring.

— ChadTheeBlaqueDolezal (@ThirstyHashira) July 14, 2023
Ddg said people only want Halle cause she the girl he claim…bro who are you?? So delusional

— 🥂🍾 (@hrsinnsilence) July 15, 2023
DDG has done so many things to sabotage Halles career, especially during the Little Mermaid release. I knew he had deep, evil intentions when he leaked that video of Halle cursing. And it's not to say that she can't curse or doesn't curse, but why put that video out there..

— victorious (@afrorckprincess) July 15, 2023
Some female fans were not appreciative of the alleged hypocrisy that DDG exemplified when he had girls twerking in front of him and even slapped one of his video vixens on her backside.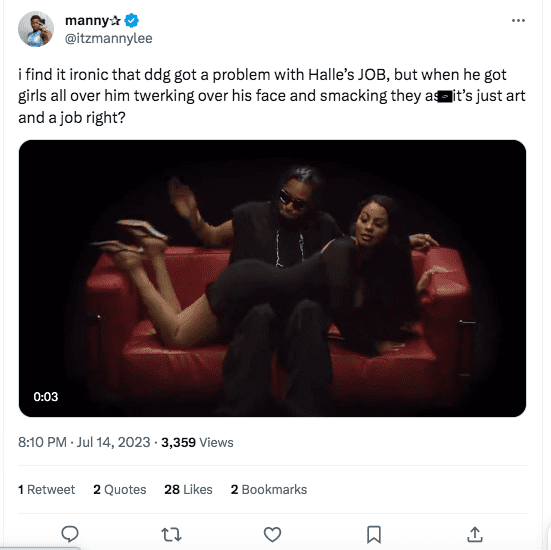 So DDG can have women twerking on him in every other music video and Halle is supposed to realize that's just for his career but HALLE KISSES ONE MAN STRICTLY FOR FILMING PURPOSES AND HE FEELS INSECURE? pic.twitter.com/c3aiNJYLkC

— KNTY NEWS 📰 (@YallQunt) July 15, 2023
ddg end goal is to definitely ruin halle's film career. im not even being extreme when I say he would love to isolate her from growing & reaching her potential. his reaction to tlm made that very clear to me. he had no intent on being the man behind a successful woman

— val | BEYDAY (@westsidemanii) July 14, 2023
DDG clapped back at the noise coming back at him by posting an interview where he explains what his haters could be doing.
"They're calling me a 'failed rapper.' They're going in on me, it's starting back up. Listen, y'all, 'Famous' is just a song, OK? It's just music y'all. Just how movies is just movies, songs is just songs. Y'all gotta relax and worry about your own stuff, man. It's entertainment," DDG spat back at his critics.
https://www.youtube.com/watch?v=Vn8f4yKptfw&embeds_referring_euri=https%3A%2F%2Fbossip.com%2F&embeds_referring_origin=https%3A%2F%2Fbossip.com&source_ve_path=Mjg2NjY&feature=emb_logo