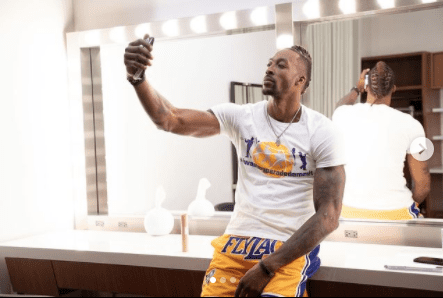 NBA champion Dwight Howard has been sued by a man for allegedly assaulting him for refusing to join the basketball star in a male threesome at his mansion.
In the explosive civil suit obtained by the likes of RadarOnline, the alleged victim Stephen Harper shared damning text messages where Howard allegedly tried to coerce him into a male sex session after Howard broached the topic on Instagram.
The legal docs claim that Harper slid into Howard's DMs and gave Howard his number. Howard then allegedly returned the message with devil emojis and then they began conversing with the topics eventually detouring to subjects of a sexual nature.
Howard did offer a disclaimer in the messages, allegedly telling Harper: "Now I want you to know I'm not like gay or anything. I'm jus a lil nasty sometimes. Ion wanna offend you."
https://www.instagram.com/p/Cu5hDybLOfY/?utm_source=ig_embed&ig_rid=63e4dcc1-0fab-4489-9065-f8bce231236a
The two allegedly exchanged texts between May and July 2019 — which included sexually explicit photos and videos. Things went downhill for Harper when Howard allegedly invited him to his Atlanta-area estate to hang out on July 19, 2021, the documents read. Before Stephens arrived at Howard's home, Stephens said Howard was pitching the threesome scenario. And when the Uber dropped Stephens off, Howard allegedly became more insistent on manifesting his fantasy episode.
That's when a man dressed as a woman named Kitty rolled up on the scene and immediately popped in a porno, Stephens says in the documents. With the scene set, Kitty allegedly began sexually servicing Howard who then began touching Harper. The man claims he said "no," which infuriated Howard.
Howard wasn't trying to hear Harper's protests. He barked to Harper that he was "going to do whatever" and that he was "going to like it," Harper claims in the court filing.
"Defendant stood up (towering over Mr. Harper), grabbed Mr. Harper by the thighs, forcibly removed Mr. Harper's underwear, held Mr. Harper down, and performed nonconsensual oral sex on Mr. Harper," the suit read. "Mr. Harper was in fear of imminent bodily harm when he was pinned down and forced to remain in place while Defendant continued to sexually assault him."
It only got worse for Harper, he claims. He and his legal team wrote in the document that Kitty anally penetrated Howard while the NBA player allegedly forced his penis into Harper's mouth against his will.
After Howard was allegedly done with him, Harper bolted from the home via an Uber and remembers feeling "extremely violated and humiliated and was in complete shock." 
Howard has yet to publicly respond to this inflammatory lawsuit by Harper.