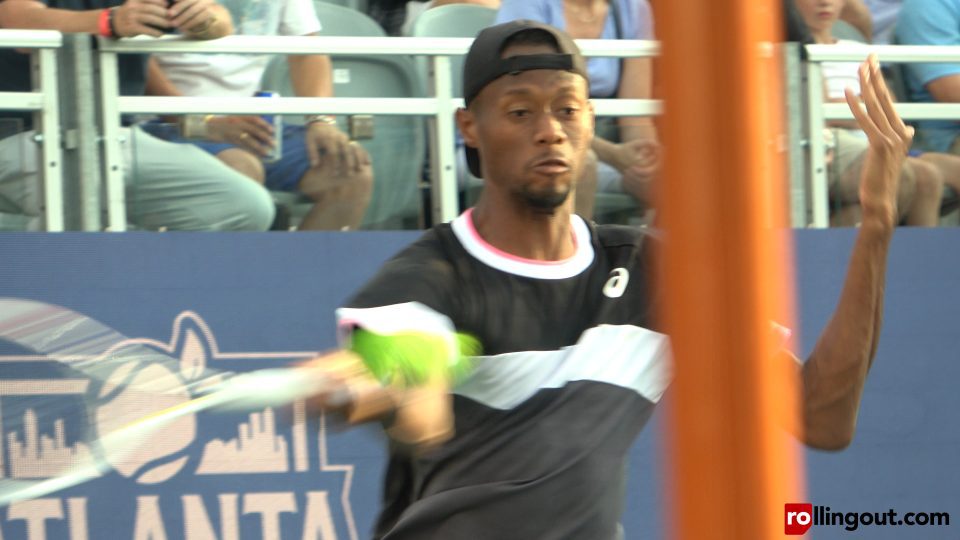 Atlanta's hometown hero, Chris Eubanks, did not disappoint in his opening match at the 2023 Atlanta Open at Atlantic Station. In two sets against Georgia Tech senior Andres Martin, Eubanks dominated with a 6-2, 6-4 win.
The area's popular 27-year-old returned to the court in his hometown with even more fame after the world turned its eyes to the last-standing American male at Wimbledon when he advanced to the quarter-final.
"It's a lot different," Eubanks, who stands at 6-foot-7, said on the court about his newfound fame. "I'm going to the grocery store and people are stopping and recognizing me. I used to get stopped and get asked if I played basketball. Those questions have stopped altogether."
In-between moments of seriousness, Eubanks was all smiles and laughs in front of the hometown crowd with the added attention. Celebrity attendees included NFL legend, Cam Newton.
No place like home @ATLOpenTennis

📸: @jalexsmith pic.twitter.com/DFE11HGD5i

— Christopher Eubanks (@chris_eubanks96) July 26, 2023
The match at the weeklong Atlanta Open took part on College Night, where Georgia Tech cheerleaders and a marching band paraded through Midtown Atlanta's streets to the event's venue in front of the battling Yellow Jackets.
As Eubanks competes in Atlanta throughout the week, it's all a tune-up for the next major championship opportunity at the U.S. Open in New York from Aug. 28-Sept. 10.