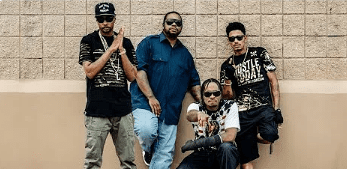 The recently erected street sign paying homage to acclaimed rap group Bone Thugs-N-Harmony has been stolen from it's Cleveland, Ohio post – already.
The sign "Bone Thugs-N-Harmony Way" was snatched just 48 hours after the iconic quintet was immortalized at the corner of E. 99th St. and St. Clair for their seminal contributions to the annals of music in Cleveland, and around the nation in the 1990s.
According to the Cleveland Police Department report obtained by "Cleveland 19 News," Bone Thugs were honored with three physical street signs in their hometown along E. 99th Street, which the crew famously named their smash debut album, E. 1999, after. The sign that was erected at the intersection of East 99th Street and Lowell Avenue was taken. The sign that was placed at the intersection of E. 99 and St. Clair, where the ceremony for the group was held on Friday, was not harmed and remains in place.
The CPD did not indicate to the media when the street sign was stolen. No word yet on when the sign will be replaced.
Bone Thugs rocketed to international fame right out the gate through such infectious hits as "First of the Month," "Thuggish Ruggish Bone" and especially "Crossroads," after being signed by the late legendary Eazy E, the co-founded of NWA.