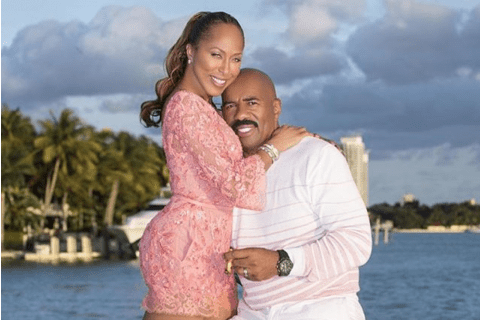 Marjorie Harvey recently caught heat on social media after being accused of cheating on her husband, Steve Harvey. According to the rumor mill, Steve was planning to file for divorce after Marjorie cheated with his bodyguard or chef.
At the 2023 Invest Fest in Atlanta, Steve Harvey quickly shot the rumors down.
Steve Harvey clears the rumors about him and his wife Marjorie Harvey pic.twitter.com/Yw6dOCS4St

— Covered & Cultured™️ (@Socamonarch87) August 28, 2023
"Yea. One thing about me coming here [is that], I always love Black people. I always love my people. Y'all belong to me and I belong to y'all, even in the bad. Before I get started let me just say, I'm fine. Majorie's fine. I don't [know] what y'all doing, but find someone else to do, because we fine. Lord have mercy," Steve said.
Marjorie and Steve Harvey have been together since June 25, 2007, and they have been very private about their relationship.
A day before the cheating rumors surfaced, Steve announced that he fired someone on his social media team after a negative tweet ws postedasking which comedian people don't find funny.
Steve released a public statement on Twitter assuring fans this tweet did not come from him, and the person responsible was quickly fired.
"All right, I got to take some time to address this here. I came down here to get away, get in some nature, and do some fishing. Somebody works for me on my Twitter, put a statement out that was totally negative. I have to take some responsibility for it because they work for me, but the engagement was talking about, 'Name a comedian you don't think is funny.' Why would I do something like that? That doesn't even make no d— sense. My whole brand is to be motivational, and then I'm going to turn around and say something like that. You don't know where these young people at in their career. They could be coming up or anything. I'm all about positivity, I would have never done nothing like that, d— sure pissed off right now, man. Talking about, 'I was trying to get some engagement.' OK, OK be trying to get some employment too. My bad y'all now I got to come on here and do something. Doing a d— selfie, so here it is. I'm sorry, man. My bad y'all, but [it] won't happen again though," Steve said.
The report came out the same weekend as Invest Fest.
🗣️ I'm personally addressing this pic.twitter.com/4bcoxIAPlP

— Steve Harvey (@IAmSteveHarvey) August 25, 2023