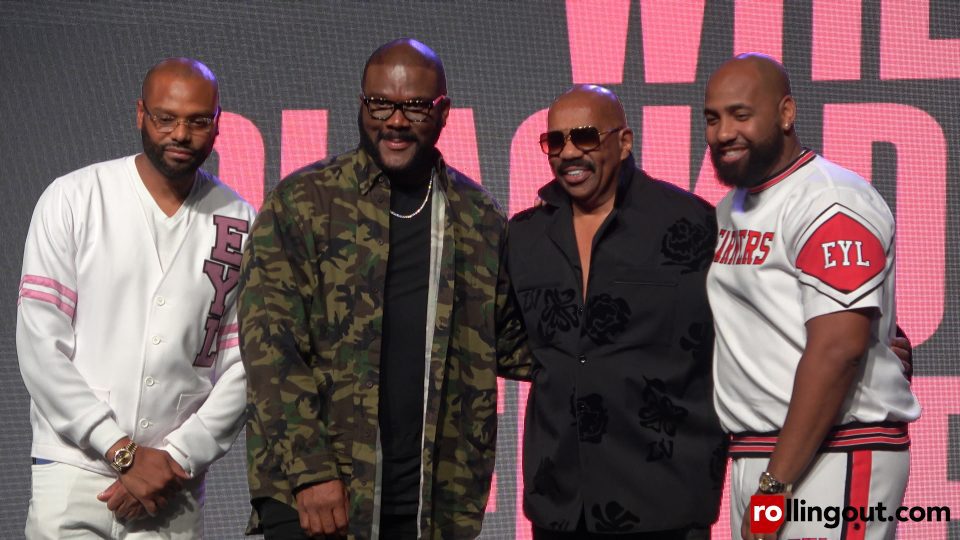 The hosts of the "Earn Your Leisure" podcast brought out some of the biggest names in entertainment and business for 2022 Investfest in Atlanta.
The two-day conference at the Georgia World Congress Center was headlined by Steve Harvey and Tyler Perry. The two media moguls focused on the importance of setting big goals and negotiating ownership in creative ventures. Between hourlong discussions, there were brief moments of addressing public criticism each of them has received.
Back in May during a show in Detroit, comedian Mo'Nique called out Harvey and Perry for compromising their business integrity for money.
"I ain't for that Hollywood bulls—," Mo'Nique said. "If you cross the motherf—– line, Oprah … Tyler, I'm going to see you coon motherf——."
Mo'Nique said the two reached out to her and told her to let go and let God. When she decided to do so, God responded.
"He said, 'b—-, I gave you everything you needed to deal with these motherf—— coons,' " she said. "Steve Harvey, D.L. Hughley."
Mo'Nique and Harvey also had an intense conversation on his former talk show about the topic. Mo'Nique later said the version that aired was heavily edited.
let's all remember when steve harvey invited mo'nique on his show to speak over her. pic.twitter.com/srpceLKGdD

— Daniellé DASH (@DanielleDASH) May 11, 2019
While Hughley publicly addressed Mo'Nique at length for her comments, Harvey took a dismissive approach in his initial response.
"Let me just open by saying I could care less now about what you think about me because clearly, I'm not your problem," Harvey said on his morning radio show.
At Investfest, however, Harvey appeared to still address the words directed toward him, without mentioning any names. He opened by saying when he looks at other celebrities and their careers, they have more time to publicly call out other celebrities, which made the crowd gasp.
"Magic Johnson ain't got time, Tyler Perry ain't got time to talk about me because they're building their empire," Harvey said.
He said one time he was about to get on CNN to respond to something about him he saw on a blog. Perry called Harvey and explained why he couldn't do that.
"Listen to me, Steve," Perry told Harvey. "When they talk about you, it's a blog post. If you open your mouth, it's a press conference.' "
Perry addressed Spike Lee, who he's honored at his studio in Atlanta. Lee previously called Perry's films "coonery and buffoonery."
"You can't negate what the man has done and what he has contributed to the industry," Perry said, explaining why Lee was honored at his studio.
"When it comes to business, if you start working more from your head above your heart, where you can forgive people and move on and honor them for what they've done, I believe you'll place yourself in a great synergy that can help change the trajectory of your career," he said.