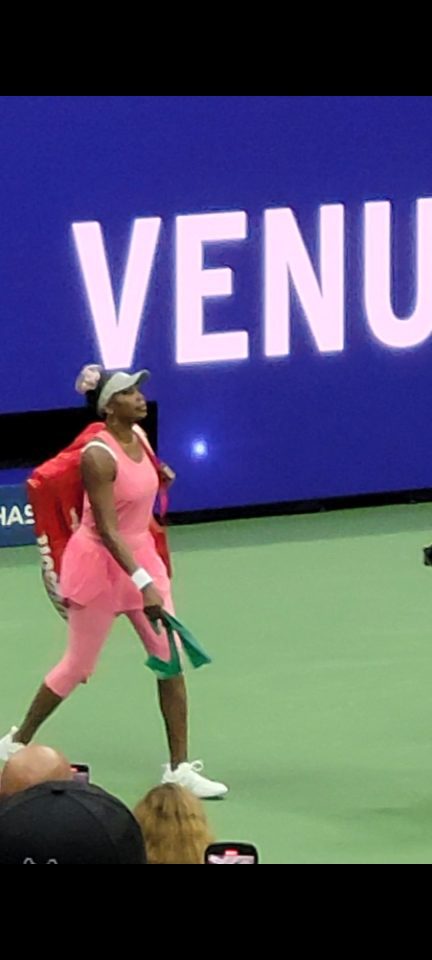 Venus Ebony Starr Williams stepped on the tennis court of Arthur Ashe Stadium for the 100th singles match of her career at the U.S. Open with stars looking on like actress and singer Queen Latifah, NBA player Jimmy Butler of the Miami Heat, and four-time Grammy Award-winning singer Seal. She then put on, her worst performance of those 100 matches, which included two U.S. Open championships.
Belgian qualifier Greet Minnen completely dominated Williams, defeating her 6-1, 6-1 in about 73 minutes. Williams spoke to the media after the match about what went wrong. 
"I don't think I played badly," Williams said after the loss. "I think it was just one of those days where it's just unlucky."
She also discussed her lack of preparation. 
"My preparation was definitely minimal," she added. "But I don't think that it necessarily affected the bulk of my performance. I think there are just shots where my footwork wasn't really there. A lot of backhands I missed where my feet just weren't there. That's normal when you don't spend a lot of time on the court."
Williams expressed her appreciation for the crowd that has supported her for over two decades.
"It was really great to hear the support," she acknowledged.  "I know the fans have been here for me forever, so that's fantastic to still have that support even more than ever. So, it's a beautiful thing, and I love the Open."
Some might think Williams should join her younger sister Serena Williams in retirement, but I strongly disagree. Venus Williams still gets fulfillment out of playing the game of tennis, and if it still brings her joy, she should do it as long as she is able to and it continues to fulfill her.
Minnen will battle another qualifier in the second round, a 28-year-old American of Guyanese descent, Sachia Vickery, who was victorious over No. 21 ranked Donna Vekić 2-6, 7-5, 6-2 Tuesday. 
Frenchman Gael Monfils defeated Taro Daniel in four sets to advance to the second round, where he will face No. 8 ranked Andrey Rublev of Russia. American Michael Mmoh advanced in straight sets against Karen Khachanov and will face fellow American John Isner, who announced that the U.S. Open will be his last tournament.
Teenage tennis superstar Coco Gauff, the second-highest ranked American woman in the tournament at No. 6, plays at noon today against Russian Mirra Andreeva. Frances Tiafoe, the second-highest ranked American man in the tournament at No. 10, plays at 7 p.m. against Australian Sebastian Ofner. Tiafoe defeated fellow American Learner Tien in straight sets in the opening round.
Both matches will be at Arthur Ashe Stadium and will likely be televised on ESPN. Atlanta native Chris Eubanks is also in action on Wednesday in the early afternoon, barring rain.