As actor Terrence Howard joins the Zoom call, he's radiant and smiling. And as he eases into a more pensive posture as he prepares for the conversation about his career, his cheerful disposition helps soften the blow of his renewed claims that he's retiring from acting, which he delivers as casually as two strangers talk about the morning weather.
His lighthearted approach to announcing the end of his acting career makes it challenging to determine whether he's serious this time. In December 2022, following the success of the TV series "The Best Man: The Final Chapters," Howard announced his retirement after years of giving his best.
However, retirement seems closer this time than before as he smiles slyly with his eyes. Is he walking away, or is this a message that he's unavailable for any roles lacking dimension of uncomplicated characters to portray? Or is this exit from the industry more a matter of refusal to continue acting considering the residual proceeds he says are due to him, but he has yet to receive from previous projects? Heeding his manager's advice to seek new projects as they await back-end proceeds, he allowed one to slip through the cracks.
One movie pitch did pique his interest and caused him to pause his exit from entertainment; he read a compelling script and became hooked. The culprit of the temporary change in Howard's plan was a quirky, vintage movie house owner named George Fuller. He stood tall on his convictions and family legacy in the comedic-action film Showtime at the Grand, written and directed by Orson Oblowitz.
After speaking to Fuller, the motivation to participate came from something other than money, a huge budget, or special effects. With a mere $1.5M for the entire film that co-stars Dolph Lundgren as Claude Luc Hallyday, it was Oblowitz and the words on the pages of that script lured him back.
With the film's November release date rapidly approaching, Howard spoke with rolling out about the alluring nature of a character like George Fuller. That pull was strong enough to put his self-imposed retirement from the stage and screen on hold. Additionally, he shared what the late Sidney Poitier told him about retirement that impacted his perception of exiting the business after they watched the screening of Howard's two of his most iconic roles, Cameron Thayer (Crash) and Djay (Hustle & Flow).
"Me and [Sidney Poitier] had a conversation after he had watched the screening of Hustle &Flow," says Howard. "Then, a couple of weeks later, he watched a screening of Crash.
"I was asking him selfishly whether he was going to do any more films, and he said he 'didn't know.' I just wanted to work with him. But he was like, 'I, you know, I've done this for 50-60 years.' He said, 'I think I've done everything I can. I don't want to do an impersonation of myself.' And I thought that was very authentic and honest.
"And I feel the same way. I didn't think I had anything new to offer. But then when I saw George Fuller, I found … a character I had [never] played. And it was interesting exploring that," he says.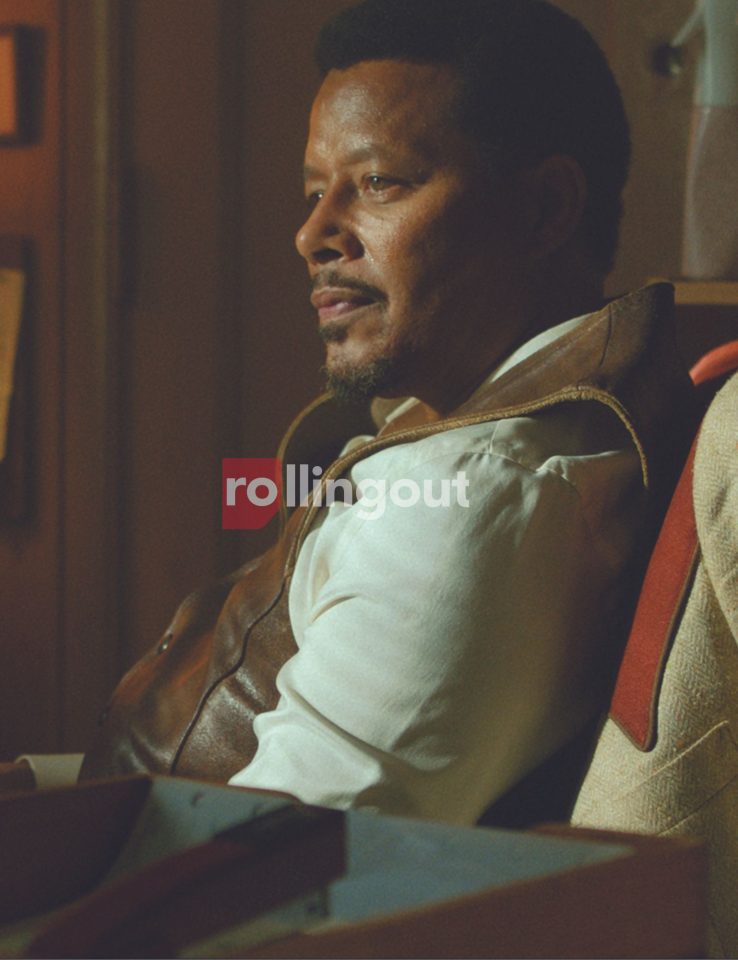 Throughout his 30-plus year career, it's easy to lose sight of the vastness of his body of work. During his impressive career, he has given life to a wide range of characters, from Colonel James Rhodes in Ironman to Cowboy in Dead Presidents, along with powerful performances as the polarizing provocateur Quinten Spivey in The Best Man, or the frustrated Trumpy of Idlewild and the unforgettable Lucious Lyon on "Empire" — there was never a time he didn't command the camera during his time in front of it.
But now, Howard is ready to turn his focus to something significantly different from acting. These days, his attention is shifting from acting to technology. In recent years, he says he's developed several items that the government still needs to grow. An endeavor that will keep him challenged as the final curtain comes down on his illustrious acting career.
"I've invented a new form of flight, tangential flight with lynchpins. I've invented unlimited bonding and, and developed four super-symmetrical systems … mankind has never found even one. So, it's like I've found something new to challenge myself with, and that's what I'm working toward, the technology.
"Now if I find another character that I can give everything to, I would love to participate in it. But if I can't find someone we're doing that with, where I can give everything, I [would] rather give nothing," he says.
Showdown at the Grand opens in theaters Nov. 10.
Cover photography by Nick Gonzales

Interior photography by Shout Studios