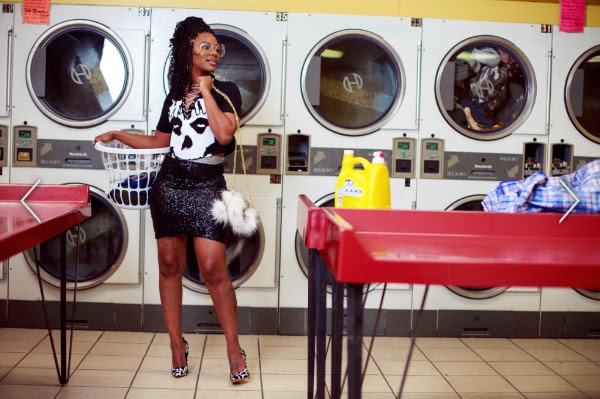 How Shari Radford quit her day job for her dream job, opened GlamSeven Boutique
Shari Radford, owner of GlamSeven Boutique in Detroit, has an inspiring story to tell about following her dreams. She was a young mom, wife and a blue-collar worker when she decided to leave her $30/hour job with benefits at an auto plant to pursue her dreams. She opened GlamSeven Boutique shortly after walking away from her sometimes 10-hour a day job. Now, she has celebrities such as Amber Rose and the Baddest Chick Trina and others repping her brand.
Rolling out sat down with Radford to hear her story. Read below to find out how she did it.
What is GlamSeven? How did you come up with the concept?
GlamSeven is the state of being complete. The concept came from a place of pain; me learning to love myself. These were the things God told me a woman is supposed to feel: glamorous, pretty, and the number seven is one of my favorite numbers, in the Bible it means completion.
In learning how to develop a relationship with Christ, He told me he would teach me how to love myself when loving him first. I then began to learn to love myself properly. I went through a separation with my husband. He decided he didn't want to be married anymore. I [had] began to love being married and [being] a mother. I'd lost myself when he left. So, when he left, I began to love on me. I changed my diet. I lost 50 pounds, cleared my skin, got braces — which I didn't need — and needless to say he woke up after four months. This is GlamSeven: me and every woman who sometimes forgets to put themselves first.
You have a unique journey into entrepreneurship. Tell us about the day you left your $30 per hour job to follow your dreams.
Well, that morning I went into work at 5:00 a.m. I gave myself the same speech: "Shari, you got to work your day job until your day job turns into your dream job," psyching myself [up]. I had been working on driving cars off the lot since being back at work from my car accident. [Management] came to take me back to my old department, the Axle Loop (also known as the jungle), one of the hardest parts to work in the Jeep plant. I just began to swell up inside as they took me to my line. I asked the team leader could I use the bathroom. I went to the bathroom and I cried. I mean like a hard cry. I had only had two hard cries in my life. I began to talk to God like 'Lord I can't do this. I am working ten hours, suffering from an injury. They know I can't do this job'! I was like 'Lord I know I need a job, but I can't. I need the money, but I know you will provide'. That day, I decided when I left the bathroom I called Rodney, my husband, and I told him what was going on and he told me to come home. I left the bathroom that day, made up in my mind I was going to step out on faith and trust God's plan for my life. I went downstairs [and] told the team leader and my area manager I quit and I was [going to] follow my dreams. My co-worker told me very sweetly "Baby, don't do it. You'll be okay. I'll help you do the job today." I told her thank you so kindly, but this is about me following my dreams and living in my truth. I ran off the job, ran down the line screaming 'I am following my dreams!!!!' Never looking back. I got all types of calls, people asking "Did I have a breakdown?" "Was I OK?" Honestly, I had never felt better. I was doing something I wanted to do. I was living in my truth.
How did you get celebrities such as Amber Rose and Trina to wear your brand?
Amber Rose was actually coming to a party here in the city, she was hosting the Ultimate White Party. I got a table as a vendor so I would be able to try to give her the shirt I made her, but she had arrived so late [that]  I left. I looked on her website searching for an email to her customer service. Bingo! Found one email to customer service, told them I wanted to send her a shirt I made because I missed her at an event. They gave me an address to send her things. I never thought much of it after sending it. Three months had gone past and I became discouraged. [My] business wasn't moving like I thought it should. I was mad, so I screamed, "When is it my turn, God?" I began to cry. Later that night, my sister called me like "you won't believe this. " I was like 'what?' She sent me a screen shot of Amber Rose in the shirt I made. She was leaving "Dancing With The Stars." I began to cry and thank God. I decided I wouldn't doubt Him ever again.
With Jessica Dime from Love & Hip Hop Atlanta, one of my friends told her about my brand. She said, "Let me see her stuff." She sent me a message letting me know she loved it and it aired on this season. With BBO from Love & Hip Hop New York, my best friend was asked to do their makeup. He told me to bring my shirts. I gave it to group member Lexi. She loved it and wore it to her performance that night. With Trina, well I watch a lot of Instagram "live", so when it came on, people who were famous would do segments about how they started and allow you to ask questions [during the live session]. One of my favorite business owners was doing a business segment [on IG live] and she was explaining how people think you can just walk up to famous people and give them your [products] and they wear them. She was like that's   not how it works. She explained that Trina used a Public Relations Firm. I asked who they were, and she shouted me out like "GlamSeven, I love my shirts go follow her," and she gave me the name of the PR Company she works with. I connected with Krystle Coleman with Midori Star Media Group, she set up a phone interview and she connected me to Trina, who wore my jacket and shirt to her performance. The rest is history.
How would you describe GlamSeven's brand?
I describe GlamSeven's brand as [women] making a statement when [they] walk through. You're going to feel complete.
Describe the social media strategy for promoting your business. 
Some of the concepts and designs I come up with are personal situations that I may be going through at that time. It allows me to express myself thru my designs, which I feel is unique because the customer gets to understand little parts of me.
I love, love doing 60-second Instagram videos. It allows me to dress up and make it real for [my customers].  My goal this year is to at least do three of them, along with a photo shoot. I am already one video down and two photos shoots in, so I am currently on target. I use the same team for my video, Brice from MyTouch and Myron for my photos, MrPicture Via La Yellow Wall. They really help take what I want for promoting and make magic.
Describe your creative collaborations and the importance of collaboration. 
In the past, I've done collabs with hairstylists. I feel they go hand and hand, especially with my brand. Two promotions are better than one. That person who's getting their hair done will need an outfit. Hand and hand, we all win.
Name three creative icons that influence your approach to business and life. 
Beyoncé, fellow Virgo and creative genius. I love how she uses visual effects through a video to express her concepts. Ming Lee. The hustle and drive, and her story behind SnobLife and how she started with $500 dollars. I started GlamSeven with one paycheck. My mom is the third. She's an icon in my eyes. She did what most can't do. She decided she would never give up, always complete a task, be a person of integrity [and] a person of [her] word, which is very iconic.
What are the three most important factors of being a successful woman?
You got to believe what you say will happen. You have to be able to grind it out, or as Diddy says "lock in on your dreams when others are having fun." You got to stay focused
Share two national brands who have a creative approach to business that keep them seen as a trendsetter and leader in their industry.  Please give examples with each creative approach. 
I look at Nike. They created a slogan that we all need to live by: JUST DO IT. It's not enough to say it, you've got to put the work in it. Victoria Secret [is another brand. I look at how] the founder wanted to be able to buy his wife sexy wear without being embarrassed, but ended up making something where women not only smell good, [but] look good and sexy while doing it. It was such an awesome idea it couldn't just stay a secret. Sometimes, that's where our best ideas come from; when you're doing things that make you feel uncomfortable.
What would you tell aspiring entrepreneurs about following their dreams?
I would tell them it's not just enough to dream of the things you want to do but it's even harder living them out. But once you believe you can do it, the sky is the limit. I would tell them never to give up. Half the battle is done. It took courage for you to even act on them. Keep pushing. It will happen. Timing is key.
Where can we find you on social media?
My Instagram is GlamSeven_ and on FaceBook, GlamSeven LLC.