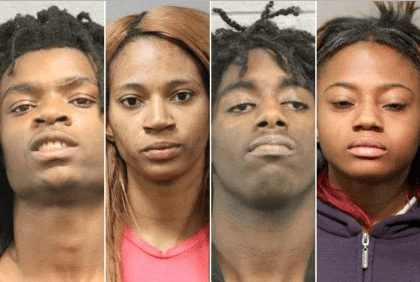 The four Chicagoans behind the heinous and heartless attack on a young special needs man have been identified and charged. Suspected attackers are Jordan Hill, 18; Tesfaye Cooper, 18; and sisters Brittany Covington, 18, and Tanisha Covington, 24. The victim, who has not been identified, is with his family.
They face charges of aggravated kidnapping, aggravated unlawful restraint, aggravated battery and a hate crime. Hill, who was acquainted with the victim, faces an additional charge of robbery and possession of a stolen vehicle. Hill, Cooper and Brittany Covington also face charges of residential burglary .
The foursome are set to face a judge for the first time Friday afternoon, Jan. 6, 2017 at 1 p.m. Central Time for a bond hearing for tying up, gagging, kicking, punching him and then scalping his head with a knife until he bled.
They yelled at him: "F**k Donald Trump, n***a, f**k white people!"
And at knifepoint they told him to repeat: "I love Black people."
At a press conference, it was revealed that the unidentified victim and Hill were "acquaintances." The victim's parents dropped him off at McDonald's in Streamwood, Illinois, so that he could hang out and spend the night with Hill. Hill picked up the victim in a stolen van, they visited friends and slept in the van at nights. When they visited the Covington sisters on Tuesday, Jan. 3, 2017 things got ugly. Hill and the victim wrestled and the fight escalated. The sisters reportedly tied the victim up and he was tortured for six hours. A half hour of the ruse was streamed on Facebook Live.
Graphic video: Chicago teens kidnap, torturing special needs man
The victim was reported missing on Monday when they could not get into contact with their son.
The victim escaped when three of the suspects left the apartment to kick in the door of downstairs neighbor who reported the noise to the police.
A police officer saw the beaten and bloodied victim, who was dressed in a tank top and shorts, which is unusual for a winter in Chicago, so he decided to walk up and see what was wrong. The suspects shredded the victims clothing with knives during the live-stream.