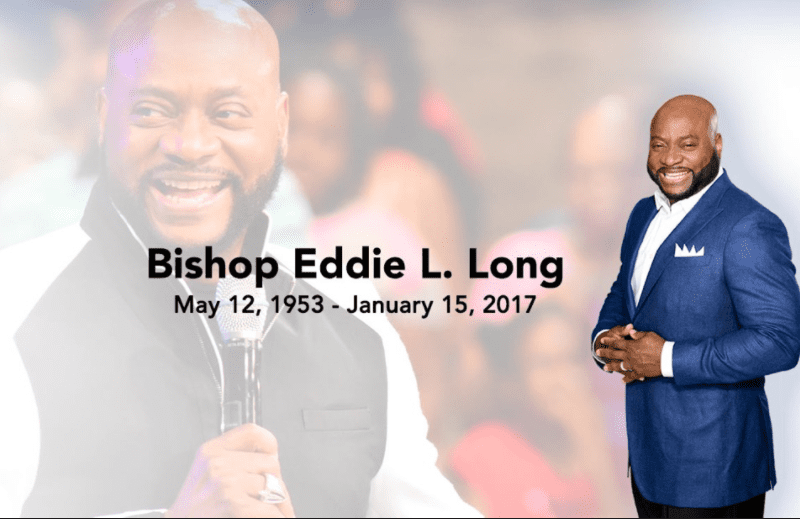 The city of Atlanta and the gospel community united in record-breaking numbers to unapologetically honor the legacy of Bishop Eddie Long, pastor and founder of New Birth Missionary Baptist Church. Well over 10,000 members, clergy, celebrities, athletes, dignitaries and influencers honored the legacy of compassion and leadership that defined Bishop Eddie Long, for over 30 years of ministry. Instead of eulogizing Long's death, the community showed up in droves for a standing room only celebration that touched on the impact that Long left on innumerable lives. Bishop Long's impact was so intense that an hour before the service the exit leading to the sprawling New Birth campus was backed up for miles on the highway.
If there was any concern regarding community support, Long's undeniable impact on both his local and global community created a beautiful outpouring of admiration and deep-rooted respect. Speakers reminisced on Long's philanthropy and empathy for his community starting with the members of his church. Except for former pro NFL superstar Deion Sanders, whose tear-filled suggestion "that with so much love, perhaps people should consider that the media and naysayers had truly gotten it wrong," no mention was made of the sexual misconduct scandal that broke in 2010 and threatened to destroy Long's livelihood and divide the congregation of New Birth Missionary Baptist Church. Instead, the focus was on stats regarding Long's $1.6 million donation to the Sickle Cell Foundation via his fraternity Kappa Alpha Psi, and his newsworthy blood drives in support of the American Red Cross. Slide shows showcased the immense support New Birth provided to the East Atlanta community during holiday seasons and beyond.
New Birth's Minister of Music and gospel legend Byron Cage credited Long with every opportunity that enabled him to realize his passion, career and share God's love. Civil rights icon Xernona Clayton suggested that Long was one of the few that truly utilized the space God afforded him, leading his congregation to positively impact the community in a way that was unheard of before Long's arrival. International gospel icon T.D. Jakes was unable to attend but skyped in for the celebration to greet the crowd. "I have tremendous admiration for Bishop Long, his lovely wife, family and congregation. We stand with you in healing moving forward," he shared soberly.
Bishop Long's colleague and friend Bishop Dale Bronner, founder of Word of Faith Family Worship Cathedral, greeted the crowd, admonishing them to consider the way Long would be remembered. "You are born looking like your Mama and Daddy but when you die, you end up looking like your decisions."
The historic celebration lasted over five hours with numerous speakers, honors and tributes in honor of Long's longstanding example of civic responsibility and Christian leadership.
(Photos credit: New Birth Cathedral)