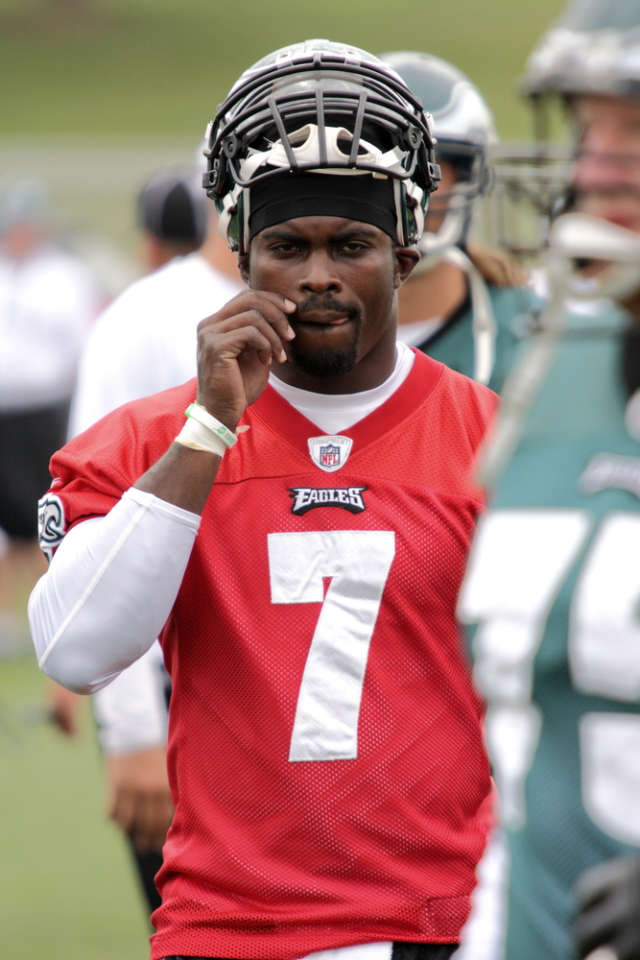 Today on The Players' Tribune, former Falcons quarterback Michael Vick pens a reflective letter on his playing career in Atlanta, his tenure in prison and his thoughts on the team as they prepare to play in the Super Bowl on Sunday, Feb. 5, 2017 in Houston.
Read excerpts below.
On the city of Atlanta:
"As my playing career in the NFL winds down, and as I reflect on the past and really start to contemplate where I go from here … well, one thing that I've known I always wanted to do was write a letter. And not just any letter.
I wanted to write a letter to the city of Atlanta.
I wanted to write to the city as a whole, and to the people in it — to remember, I guess, and to say thanks. And maybe also just to sort of reflect. Because without Atlanta … man, without Atlanta, I'm nothing. Without Atlanta, I might not even be here to write this today."
On playing for the Falcons:
"And it meant a lot to me to be able to give the black kids of Atlanta their very own black quarterback — someone who they could see on the field, and watch play, and think, you know, My QB looks kind of like me. And I could play that position someday, too."
"We used to have this running joke, back when the team really had it going, that, you know: 'The Dome is better than the club.' Wasn't no need to go to the club to meet a lot of people, we figured, when you could just come to the game. I mean, I'd look around before kickoff and I'd see T.I., Usher, Ludacris, David Banner, Bow Wow, Jason Terry. Even politicians — Jimmy Carter would show up every now and then. (Very nice guy. Very humble.) If it was a Falcons home game, man, everyone was there.
And what made that cool was — it wasn't just a football moment, or a sports moment. It was a full-on cultural moment. It was Atlanta sports, and Atlanta music, and Atlanta movies. And they were all just sort of coexisting, and feeding off of each other, and making each other want to be great, in this really special way.
It really did feel like Atlanta culture was at its peak … and I really did feel like I was right there at the center of it. Like I was at the center of a whole world, right there, in this crazy community that we had built. I was Mike Vick, quarterback, Atlanta Falcons. I was those five words, man."
On the Falcons in the Super Bowl:
"It's funny: A lot of people are surprised when they find out how passionately I've been rooting for the Falcons this season. They assume that there is some sort of tension between us, some level of bitterness. And even when I tell people that it isn't the case … I have a feeling they may not exactly believe me. 
But if you could see me watching these games … Man, you'd believe me then. During this year's playoff run, I've been pumping my fist after every touchdown, with the best of them. (And thankfully there have been a lot of touchdowns.) I've been watching every field goal attempt through my fingers. (And thankfully most of them have gone in.) I've just been … well, I've been a fan. Living and dying with every play."
On finding out the Falcons drafted Matt Ryan:
"I know sometimes people will say it's like they've been "punched in the stomach" when something bad happens … but I'd never really understood the expression, until that moment. Matt Ryan. I just kept repeating his name, in my head, again and again. Every time I thought about what it meant, it took the air right out of me — but I couldn't help it.
Matt Ryan. As in, the quarterback.
Before that moment, I didn't have much. I didn't have my money … or my reputation … or, worst of all, my freedom. But I did have one thing. I had those five words: Mike Vick, quarterback, Atlanta Falcons.
And once I heard, Matt Ryan, well … I didn't have that either.
After that, I knew that everything had changed. I knew there was no going back — not to start for Atlanta, not to play for Atlanta, not even to live in Atlanta. Matt Ryan. After that, I knew it was over."
On his relationship with Matt Ryan:
"There are a lot of misperceptions about me — a lot. Probably too many to count. Like, if I started going through all of the things that people think about me that aren't true, then this letter might never end. So I'm just going to skip 99% of them — and cut straight to this: One of the biggest misperceptions about me is that I have a bad relationship with Matt Ryan.
It's good friendship, and Matt's an extremely good dude. Real cool, real funny, real thoughtful. (Matt's the kind of guy the old folks would call "a fine young man.")
People have to understand: I felt like it was my fault, like it was my responsibility, that the Falcons franchise had been set back. And if Matt had been a bust … then my guilt over the harm I'd caused the city would have only grown worse. So, yeah, I'm human. It hurt when the Falcons drafted Matt. And for a while there, for sure, I was envious of Matt's position. But Matt being such a success — that's been a joy for me. For me, that's been relief. It's been peace of mind."
Read the full story here: http://www.theplayerstribune.com/michael-vick-atlanta-falcons-super-bowl-li/