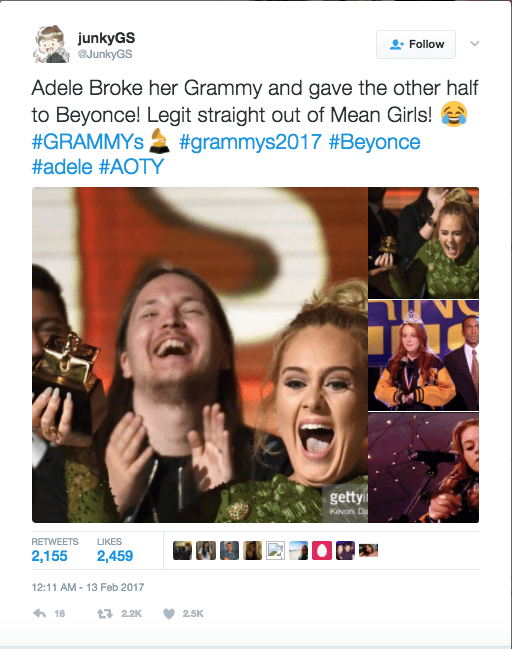 "I felt like it was her time to win," Adele told reporters in the 59th Annual Grammy Awards pressroom at Los Angeles' Staples Center following five record-breaking wins. "What the f— does she have to do to win album of the year? That's how I feel."
Adele, 28, won "Best Pop Vocal Album," "Best Pop Solo Performance," "Record of the Year," "Song of the Year" and "Album of the Year" at 2017's biggest music event of the year, the Grammy Awards, which took place on Sunday, Feb. 12.
"I can't possibly accept this award … the Lemonade album was just so monumental," Adele said during her acceptance speech. Her 25 album stole the night. "The Lemonade album was just so monumental, Beyoncé. It was so monumental and well thought-out and beautiful and soul-bearing … we appreciate that. All of us artists here adore you. You are our light." She drew tears from a pregnant Beyoncé who wore a stunning red-sequined, body-con and cleavage baring dress.
Adele tells reporters that she first fell in love with the chart-topping diva in 1998, when Destiny's Child burst onto the pop scene with their debut single, "No, No, No."
"The way that I felt when I first heard 'No, No, No' is exactly the same as how I felt when I heard Lemonade last year. There [are] friendships I have that are completely tied to us being complete Beyoncé stans. I don't take any f—ing s— when it comes to anyone not liking Beyoncé. You can't be in my life. You simply can't."
Beyoncé was nominated for Album of the Year in 2013, but Beck won for his LP Morning Phase. Adele is the first person ever to sweep all three main Grammy categories ("Record of the Year," "Album of the Year" and "Song of the Year") twice. She previously won all three for her second studio album, 21, in 2012.