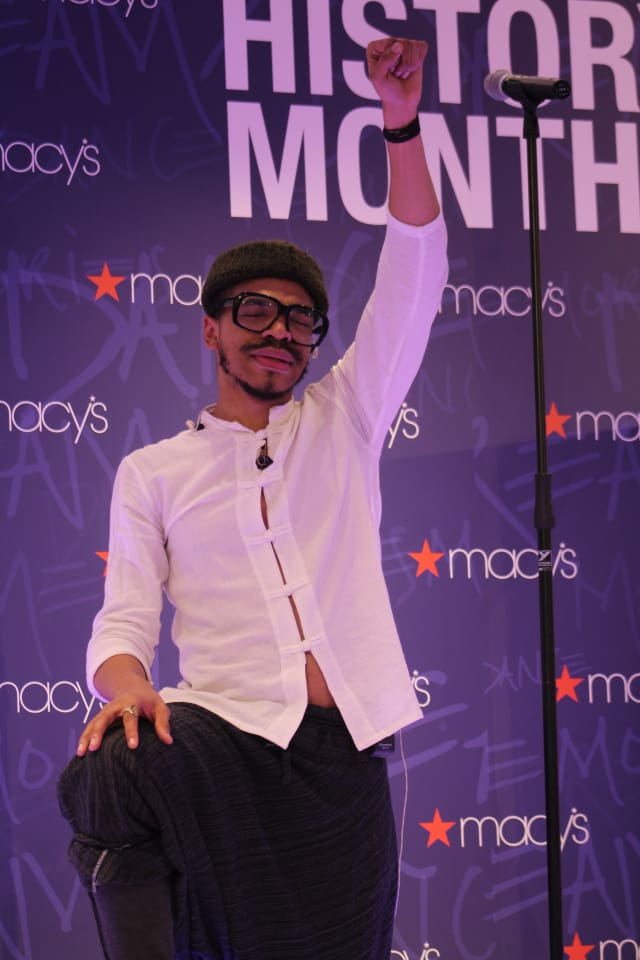 Retail giant Macy's has put together several events throughout the U.S. to commemorate Black History Month. Macy's sector of Diversity and Inclusion Strategies aims to celebrate African-American culture, entertainment, and highlight the upcoming wave of artistic luminaries within the community by honoring the legacy of Black pioneers.
The eight-city tour has stopped at storefront locations in Los Angeles, New York, Chicago and most recently Lenox Square Mall in Atlanta.
Guests got to catch a short skit by members of the UniverSoul Circus and a live art show by painter Shawn OINK, which was later auctioned off to a lucky winner from the audience. Later in the evening, while enjoying a reception with music and light bites, fans engaged in a meet-and-greet with emerging artist Kamau Agyeman, who performed"Jambo" off of his debut EP "A Gorgeous Fortune."
Grammy-nominated singer/songwriter BJ the Chicago Kid joined Kamau in an intimate Q&A conversation moderated by Ashlee Thomas of Muce 305 to share their perspectives on the importance of creative self-expression and the connection their heritage has played in shaping their careers.
"With being an artist comes great responsibility. So many young children look up to musicians based on our influence. It's important that we use our platform wisely and stay true to our culture," said Kamau.
See pictures below. Photo credit: Lauren Martinez for Steed Media Services