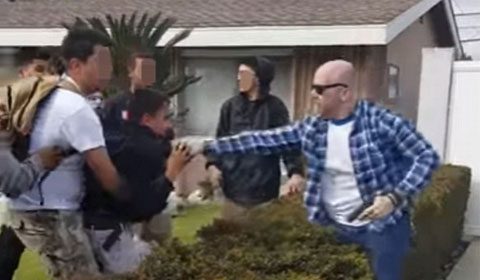 An off-duty cop went too far over his lawn in Los Angles and has now sparked protests. Video has emerged of a group of teens in a confrontation with a man who was angry that they were stepping on his grass. Harsh words were exchanged between the man and the teens, and then he suddenly grabs a 13-year-old boy and pulls a gun from his waistband. As the teens rush to the aid of their friend, the gun is discharged but no one is hit.
According to media reports, the unidentified cop stated that the teen he grabbed said he was going to shoot him. However, the teen claims that he said he was going to sue him, not shoot him. When the gun is fired the group of teens tried to flee the area as other officers arrived at the scene. The teens, who were all unarmed, were detained and two were arrested. The incident escalated when the off-duty cop allegedly called a female member of the group a "c–t" sparking the melee. Later that evening, a group of protesters gathered in the area and chanted "Whose streets, our streets," "Don't shoot our kids," "Shame on you," as well as "No justice, no peace and  f— the police."
The Anaheim Police Department posted the following message to its Facebook page:
"There is a large protest developing in the area of Euclid and Palais regarding yesterday's Officer Involved Shooting involving an off-duty LAPD officer. A Tactical Alert has been initiated. Avoid the area until further notice. Peaceful protests are perfectly acceptable, but acts of violence and vandalism will not be tolerated."
The crowd turned violent and began to throw rocks and bottles at the police who responded to the protest. Someone painted "F— the pigs" on a garage door of one of the houses, but it did not belong to the officer at the center of the disturbance. The Anaheim, California, police have reported that at least 24 people were arrested on charges that include failure to disperse, resisting arrest, and battery on a peace officer.
The police department then posted to Facebook "The protest on Palais has been declared an unlawful assembly. The Anaheim Police Department Helicopter is giving dispersal orders from the air. Protesters who refuse to disperse will be subject to arrest."
A man identified Johnny Dorscht, the teen's father stated to media "I'm pretty p***ed off about what happened. You could talk to anybody; my son has very good manners. He does good in school and isn't disrespectful or anything like that. We're going to find legal representation and be suing. This is B.S. Even the cops when they got there, they had all the kids down. They didn't even go after the guy."
The off-duty officer in question was not arrested and the police posted the following update on Facebook:
"UPDATE REGARDING OFF-DUTY LAPD OIS: A special telephone number has been created for those who want to comment on this event. The number is 714-765-7990. The Anaheim Police Department Homicide Detail is investigating the criminal culpability of the off-duty police officer, as well as the juveniles involved. The videos posted online do not depict the entire event. Our job is to collect all of the facts and evidence to present the clearest and most accurate information to the District Attorney's Office as they make their decision on the filing of criminal charges. As far as the officer's employment status, he does not work for our agency, but the LAPD is completing its own investigation into the actions of their officer. We have received reports of planned protests. Peaceful protests in accordance with the law are perfectly acceptable. Acts of violence or vandalism will not be tolerated."
Anaheim Mayor Tom Tait said there will be a "thorough, impartial" investigation into the incident. "… Like many in the community, I've seen the video and I'm very concerned about what it shows. Anaheim is committed to a full and impartial investigation. Our city will move forward without delay."