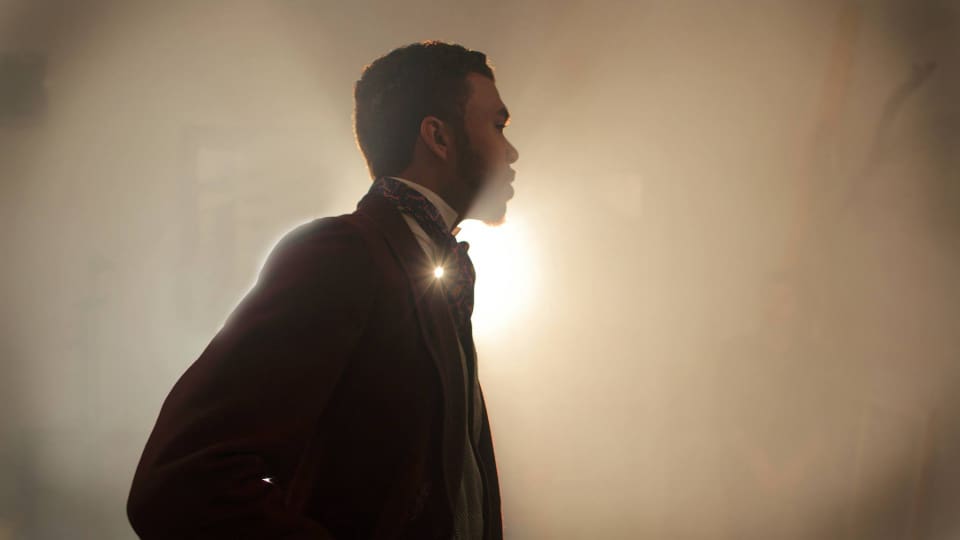 Earlier this year, the 59th annual Grammy Awards were televised to an audience of 26 million people across the world. Some might consider the annual awards show to be a self-serving event for the year's most popular artists, but the four-hour spectacle of anticipation, performances and speeches represents much more than that. The annual Grammy Awards, and really all award shows today, serve to reaffirm an age-old notion within the art-creating community: that the best creations will thoroughly entertain their audience, function as reflections of the attitudes and beliefs of their creators, and respond to societal realities that exist at their particular time of creation. When applying those same metrics to The Chief, the debut album by Nigerian-American recording artist Jidenna, the debut release can be considered nothing short of excellent. By making effortlessly enjoyable music and reflecting on his unique life, The Chief proves that Jidenna deserves all the fame that is about to come his way.
Jidenna is the artist best known for singing "Classic Man," which was his contribution to "The Eephus," the debut extended play for all artists signed to Janelle Monae's label, Wondaland Records. Born in the United States to an American mother and a Nigerian father, he lived in Nigeria for the first six years of his life before moving back to the United States with his mother. He developed his aristocratic dandy aesthetic in honor of his late father and has stated that his musical style is heavily influenced by the West African Highlife music and East Coast rap that he grew up with in his youth.
On his debut album, Jidenna creates music that illustrates to the listener what happens when a musician, full of diverse experiences, is put behind a soundboard, given a microphone, and placed within a community teeming with talent and vision. While it is common for musicians to come from all different kinds of backgrounds, Jidenna's international background is particularly different, and like all good artists do, Jidenna allows the differences of his life's influences and experiences to shine through in his music.
With The Chief, Jidenna tries his hand at several sub-genres of hip-hop, and every instance is a great success because with every song he adds the unique cane-swinging, whiskey-sipping flair that "Classic Man" primed us with back in 2015.
"Trampoline" is the album's requisite ode to women who can "bounce it up and down like a trampoline," but the song also has lyrics that will speak to any free-living millennial who can party as hard as they hustle: "got a right to get lit/she might even have a wedding ring/or a doctorate in medicine/or be the daughter of the reverend/or the daughter of the President!" "Chief Don't Run" and "Long Live the Chief" are the songs containing the most quintessential rapper braggadocio, and both reference the importance and power inherent in being a chief, oftentimes an important societal position in African culture. "White N—as" offers a Kendrick Lamar-level of analysis as to double standards that exist when evaluating the plight of Black communities, but in the song, the roles are reversed; White communities are the ones having their homes unlawfully searched and their children killed. "Bambi" and "Adaora" are songs with very clear musical influence from the West African Highlife music that Jidenna grew up with, but now on The Chief those same evocative sounds are re-created inventively with rapped verses and trap music drum beats. And along the way, the album's interspersed commentary from Jidenna's fictitious uncle, Uncle Palmwine, provide a useful probe into Jidenna's mind, functioning as a soliloquy would in a traditional thespian production as Uncle Palmwine explains family values, women, and essential life lessons to his young nephew.
In an unsuspecting way, the 14 songs from The Chief tell the story of the American Dream from Jidenna's perspective. But for people like Jidenna, and any person whose life has been heavily shaped by more than one culture, fulfilling that dream is much deeper and much more difficult than attaining a loosely defined idea of "success." For immigrants and children of immigrants, the American Dream also entails finding the sweet spot of cultural assimilation that exists somewhere between being dubbed "fresh off the boat" and "completely whitewashed." The true joy of The Chief lies in the fact that Jidenna has arrived at the perfect middle, and exists there with such a confident exuberance that listeners will not be able to help but keep singing and dancing to music with as much cultural depth and diversity as Jidenna himself.