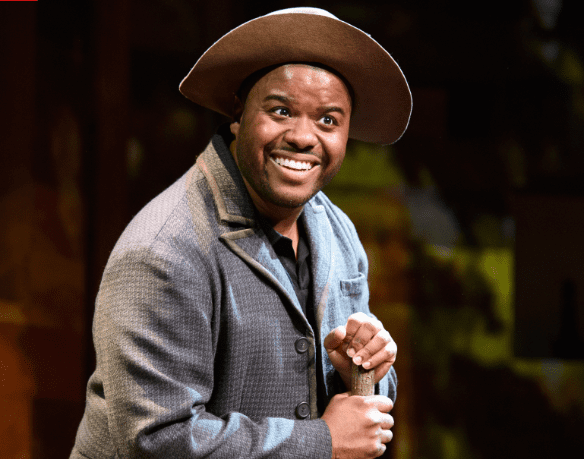 You've seen him embodied by Will Smith as Bagger Vance, by the late Michael Clarke Duncan in The Green Mile, by Morgan Freeman in just about all his popular work. After years focused on sculpting alabaster co-stars into heroes and helping them see they had it in them all along, a hilarious-but-introspective "Magic Negro" has taken the stage to explore depictions of Black people in the media – and audiences are loving it. Wednesdays and Thursdays at 7:30 p.m., and Fridays and Saturdays at 8:00 p.m. and 10:30 p.m through April 15, The Alliance Theatre in Atlanta is featuring sketch comedy show "The Magic Negro and Other Blackity Blackness as told by an African-American man who also happens to be Black," by and starring Mark Kendall. Kendall has been developing the show for a few years, and rolling out caught up with him on his home turf at Dad's Garage to get his thoughts leading up to the March 29 opening night.
Kendall debuted the show in the winter of 2014 with the Dad's Garage improv comedy troupe back when they didn't have their own space. A grant allowed him to tour the show for a couple years at improv stages across the U.S. and Canada for Alliance's Reiser Atlanta Artists Lab to develop the show into its first project to receive a full production at the theater.
"I traveled for a couple of years with whatever could fit in my backpack," recalled Kendall. "But with the Alliance show, there's a set, costumes, props, projection … it's technically a lot going on, and so the rehearsal process was learning to incorporate all those new elements that I'm really excited about."
Kendall collaborated with his creative team led by director Anthony LeBlanc, a writer and performer at Chicago's The Second City, to get the show ready for prime time. The team looks forward to performing in traditional settings away from the improv stage, at more venues like the Alliance Theater, and Kendall is very encouraged by the support he has received so far.
"The Atlanta comedy scene has been really accommodating in allowing me to develop this new work," said the Atlanta native. "It's pretty nurturing, not quite as large as the Chicago, New York, or Los Angeles scenes, and also not quite as competitive … the benefit of that is people are very encouraging of your work and there is access to a lot of stage time."
Tons of major film and television production projects are coming to Atlanta, which leads to more opportunity for some locals, but Kendall said it would be great if it got to the point where when movies and television shows are shooting scenes in Atlanta, they came to places like Dad's Garage to watch the shows and pluck people to put into comedic roles. It hasn't gotten there yet.
In "The Magic Negro…" and in his other work such as the recent humorous two-person exploration of relationships with Alison Hastings, "U Up," Kendall has masterfully used comedy to satirize stereotypes while also asking why we find them true or funny in the first place. What the audience takes away from the experience depends as much on them as it does on his performance.
"Everyone has a unique relationship with race," he explained. "Certain people find different things funny. That is more dependent on the individual's relationship to race – how they see themselves, how they've lived, and how they've been seen."
Comedic endeavors are intended to bring levity even to the dourest situations, and Kendall takes pride in being an earnest and genuine voice during these exciting times. With regard to media and entertainment, each year it is becoming easier to create and to get wider exposure for artistic projects. People behind the camera are challenging and subverting disparaging one-dimensional depictions of Black Americans.
"I'm just super-jazzed about something like Get Out being made, 'Atlanta' being the success that it is, the documentary 13th – all of those things I think are huge and very exciting," the Northwestern University alum stated before mentioning the authenticity and vulnerability also being expressed more freely in the music of Black artists – take Kendrick Lamar, Vince Staples, Beyonce, Solange, Run The Jewels, Chance the Rapper, Big Sean, and A Tribe Called Quest, for example.
Those who shy away from seeing live comedy intended to be an interactive experience, for fear of being embarrassed, are encouraged to take a leap of faith.
"Even if you put an audience member in an uncomfortable situation, you just want to make sure the audience and the participant know that you're going to take care of them," Kendall explained. "It's never the kind of thing where you're trying to make fun of them…I'm going to do my best to make you look good … That's a rule that comes from improv, which also extends to audience participation."
Tickets are available at the Woodruff Arts Center Box Office in person or by calling 404-733-5000. Tickets are also available online at www.alliancetheatre.org/magicnegro. The Hertz Stage at the Alliance Theatre is located at the Woodruff Arts Center, 1280 Peachtree Street, NE, Atlanta, GA 30309, at the corner of Peachtree and 15th Street, in Midtown.