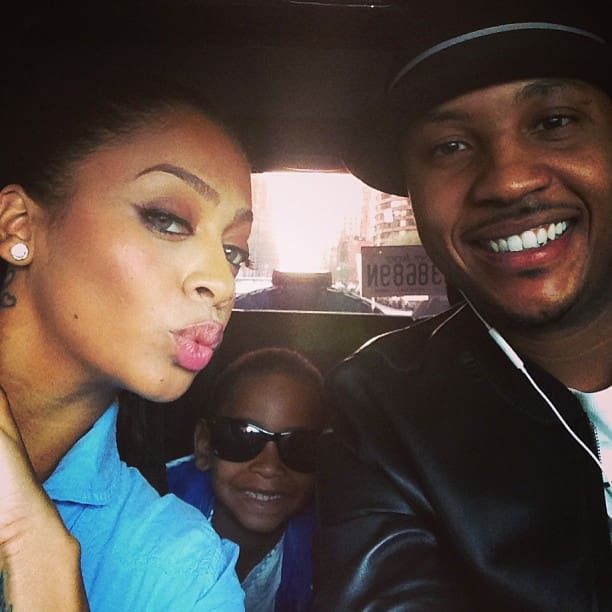 Carmelo Anthony and his marriage to La La is much like his playing career with the New York Knicks: it may be over.
The NBA superstar sharpshooter and the former MTV hostess, considered one of the NBA's power couples, have officially separated, the media has learned.
According to TMZ, the star couple has been living separately, with La La moving out of the family home last week and living in another part of New York.
The Anthonys have had tumult in the marriage in the past, like any marriage, but the current NBA season has been extremely stressful on the union, especially with Carmelo Anthony being bombarded by incessant criticism from the media – and even his own team. He has also been dogged by trade talks with the Knicks front office publicly blasting Anthony's play and commitment to winning. It was no secret the Knicks were desperate to trade Anthony — and get rid of his $120 million contract — and this could not have had a positive impact on his home life with La La. This was another point of contention because La La Anthony never wanted to leave her hometown of New York.
Also weighing Carmelo Anthony down mentally and emotionally is how he is always negatively compared to megastar LeBron James, who has won three NBA championships to Anthony's zero. James and Anthony came into the league together 14 years ago and each was expected to have multiple titles by now.
The only good news to come out of this regretful situation is that the media is reporting that the split is amicable. The publication stated that Carmelo and La La Anthony were seen together just this past weekend at their 10-year-old son Kiyan's basketball game.
Carmelo and La La Anthony reportedly are not going to move their son from his friends and school in New York regardless if Carmelo Anthony gets traded or not.