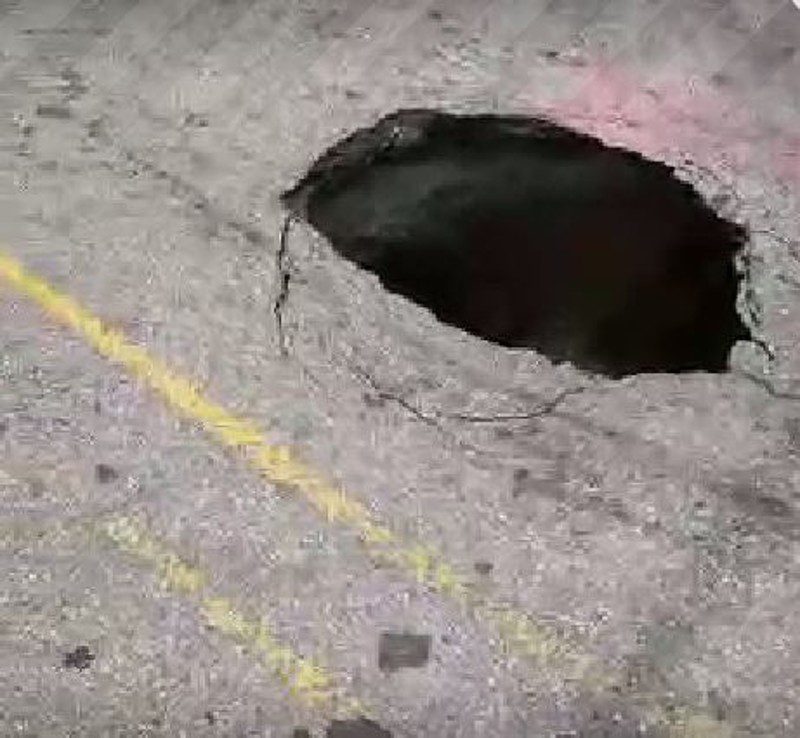 When it comes to Atlanta's roads and highways, we are reminded of the famous words of New York Yankee legend Yogi Berra: It's déjà vu all over again.
Metro Atlanta residents can't be faulted if they suddenly feel their city is slowly crumbling beneath their feet as yet another major roadway has buckled, creating a large sinkhole in Midtown Atlanta.
Atlanta officials have no timetable as to when 5th Street in Midtown might reopen after the sinkhole forced its indefinite closure.
"No timetable for reopening," Georgia Tech Police said in a Twitter post shortly after 4 p.m. on Wednesday.
Officials closed 5th Street between West Peachtree and Cypress streets shortly after noon. They are unsure as to what caused the sinkhole.
Atlanta, home to one of the worst metro traffic congestions in the United States, has gone through a wicked stretch with its roads and highways lately, a few which have made national headlines:
There was the infamous I-85 bridge fire and collapse north of downtown on March 30, which led to the closure of the highway in both directions for months;
On Monday, a tractor-trailer filled with chemicals overturned before dawn on the Downtown Connector;
Just before noon Monday, a portion of I-20 in DeKalb County buckled, blocking westbound traffic for the rest of the day. It was open for commuters on Tuesday;
Also, a portion of Memorial Drive at the Beech intersection in Decatur was closed due to a mammoth sinkhole;
Also, the sinkhole closure is near the historic Biltmore on West Peachtree Street.
According to INRIX's 2016 Global Traffic Scorecard, Atlanta ranked eighth in the world for congestion with the average commuter spending 70.8 hours in traffic each year.
Within the United States, metro Atlanta came in as the fourth most congested.