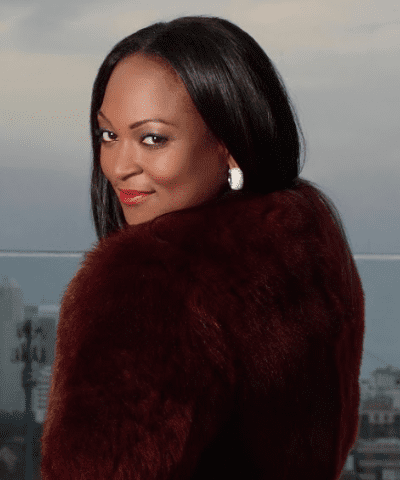 Kamica Hampton is a risk taker who loves shoes and followed her passion. One day after overindulging at Gregory's Shoes, Hampton realized it took three people to carry all her shoes. One look at all those boxes, Hampton decided, "I need to be making money for myself with all the shoes I just purchased." Her fetish for shoes inspired the vision of crafting the luxurious Kamica Hampton brand. Read more about her vision and product below.
How did you get started designing shoes?
It first began out of simply appreciating a quality shoe, what goes into the artistry and construction of a well-crafted shoe. I developed a taste for shoes that utilized quality materials. I found an appreciation for authentic fabrics, skins, real python, real leather, and other exotic materials. There is a difference when shoes are crafted with luxurious materials because the quality is better and they last season after season.
After some careful consideration, I found myself meeting with the owners of Gregory's and signing a deal to invest. The partnership was fulfilling for a while, but then I felt this itch to create my own brand. I was tired of rocking everyone else's designs. I wanted to have my name, Kamica Hampton on the insole of a shoe and that's what I set out to do without looking back.
What is the joy of being in the shoe business?
For me, shoes are a statement piece. Shoes make your outfit. I believe the right pair of shoes can change your entire mood. I love helping women feel empowered when they rock the perfect pair of Kamica Hamptons.
Define the Kamica Hampton brand.
The Kamica Hampton brand is for the woman who is unique and wants something exclusive. Our shoes are statement pieces, like works of art. The Kamica Hampton brand is discriminate in every aspect of the design. From the selective materials, to the attention of the detail in the handmade Italian craftsmanship of every shoe. The Kamica Hampton brand allows a woman to effortlessly transition from the boardroom, to a night on the town ultimately gaining attention everywhere her footsteps take her.
How has your background influenced your collection?
Unlike most shoe lines, I did not come from a legacy of shoemakers. However, I was raised by parents who were incessant about making sure I followed my dreams.  So now, I'm simply following my passion for beautiful shoes, and the desire to build a luxury shoe empire.
I am not formally trained in fashion but what I lack in training, I make up for in determination and trusting my instincts, which is why my inaugural collection is called "Instincts." When I recall the style names, Influence, Power, Faith, Courage, Conquer, Confidence, Wealth, Fearless and Grace, it empowers me to continue my journey and evolve my brand.
Where does your inspiration come from when designing a shoe?
Each shoe represents a character trait.  For example, the style I named as "Courage" was inspired by the fact that having no experience in shoe design, it took courage for me to believe I could do this.  So, when I started designing it, I knew it had to be bold and sassy so I designed a hot red, 5-inch heel, with straps that go all the way to the knee.  On the other hand, my shoe called, "Faith" was inspired by my journey because regardless of how hard it was to get going, my faith sustained me and was like a ray of sunshine. So, the Faith shoe, is bright yellow, dainty, yet exudes strength.
Describe the type of women that would wear the Kamica Hampton Brand? 
The Kamica Hampton woman's style is authenticity not imitation. She knows the value of handcrafted handmade shoes. She is accustomed to a life of luxury and exclusivity. She appreciates the history of the Italian shoe design. Every woman will want a pair but they are produced in limited quantities, which increases the value. She does not follow trends; she creates them.
What's hot for the season?   
For 2017, we will continue to see shoes that are cool, hip and colorful. They are creatively done with a fairytale twist. With the Instincts collection, we've added the flair of bold bows. For example, in our design Wealth, a genuine python shoe with a statement-making bow, I would pair them over a pair of skinny jeans and a white T-shirt for a magnetizing daytime look or a sleek black dress to dominate the night.
How do you reaffirm your faith and belief? 
My faith is the core of who I am. I commit to follow the desires of my heart and live by the mantra "Do You, Unapologetically." Live Your Wildest Dream." Daily, I affirm that I am the best version of myself.
If you had a theme song, what would it be?
I don't have a theme song, but rather, a theme poem, or rather a simple line from a poem that inspires me. "Dream," from Langston Hughes says, "Hold fast to dreams, for if dreams die, life is a broken-winged bird that cannot fly."
What inspires you?
Shoes! Lots and lots of shoes. I love shoes. My life revolves around shoes. Shoes are constant but changeable. Shoes are functional and fashionable. Shoes put your personality on display to the world. Our shoes represent our personality and I'm glad to be a part of pairing the right shoe with the right personality.