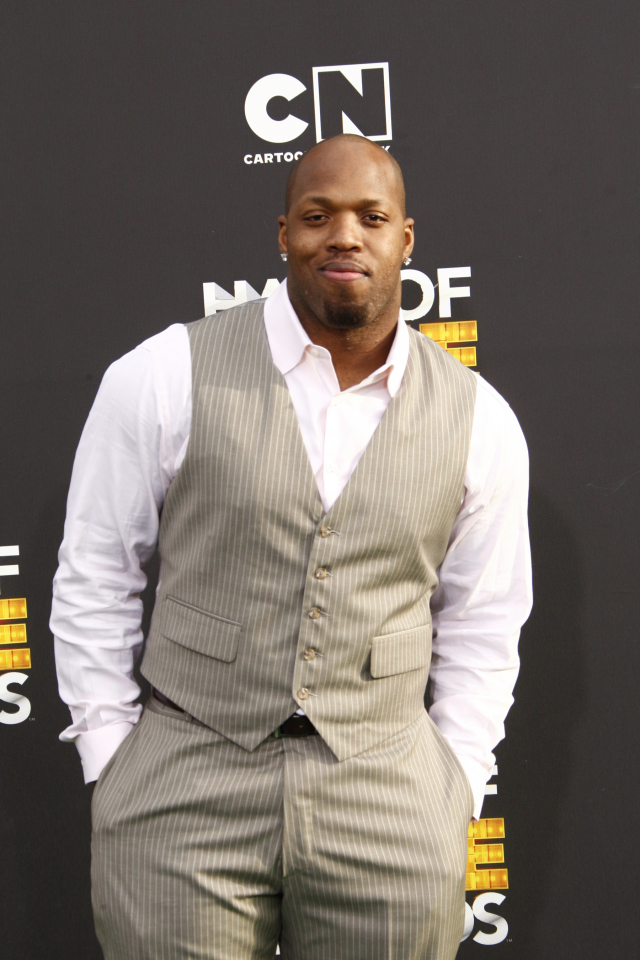 Baltimore Ravens linebacker Terrell Suggs is one of the best-known players in the NFL. The 15-year veteran has been selected to six Pro Bowls and he also made the 2011 All-Pro First Team. Off the field, he's beginning to build his brand in the media industry. Suggs is the proud producer and director of many short films and TV pilots while having cameos on the HBO show "Ballers," which focuses on the lives of NFL players, as well.
Is there anything for NFL athletes to learn from "Ballers" or is it just purely entertainment?
There [are] a lot of things you can learn from it. There's a lot of entertainment, but just the financial aspect of it. Being your own business is something — the creatives did a really good job of adding that aspect to the show.
Is acting something you look forward to doing after your playing career?
Absolutely. But you know my heart and my passion is more of behind the camera stuff. Creating, directing and producing — stuff like that. You know I'm not camera shy either. I'll dabble a little bit here and there, but I like to be behind the scenes.
At what age did you realize that was something you wanted to do, like creating media, producing and directing?
Oh, very young. Maybe 10. That's something me, my father, and my brother used to do. We used to always go and rent movies on Fridays — it's kind of when they came out. It was a weekly family thing.
Now going back to your first answer, when you were talking about what "Ballers" can teach the players of today building their own brand. How do you feel about the Ball family Big Baller Brand and the way they're approaching building their brand?
I mean, there are all perspectives. I think they're coming from an area where if no one is going to take a chance on them, they're just going to do it themselves. You have to commend them for not giving up the fight and not just taking no for an answer. They're going to do it themselves and I think they should be applauded for it. You know, Jay-Z tells the story all the time of how he couldn't get a record deal so he had to come out with his own record label. Looked how that worked out for him. So who knows. His shoe could be the next Jordan shoe. You never know. You have to start from somewhere and if you don't believe in yourself, then how you gonna expect everybody else to?
Would you personally pay $500 for his shoes?
I wouldn't personally pay $500 for any shoe. Not any basketball shoes. I have bought Givenchy shoes but as a sneaker? To play basketball in? Nah, I just can't. But as for fashion shoes, I'm pretty sure their shoes didn't start out at the cost they are now, so they appreciated in value. But as of right now, no I'll never pay $500 for a sneaker. I'll buy the $175 LeBron's.
Moving back to football, where do you see that old Ravens defense of you, Ed Reed, and Ray Lewis stacking up against the best defenses we've seen since 2000?
Well, I said at our height, we stacked up against the best, but we didn't have championships. You've got to have the championships to go along with the numbers that you put up and produced. You know, Ray has two championships, but as for me, Ed, and Haloti [Ngata]- we only had the one. It was a great feat that we all got to accomplish together, but if you don't have the championships to go along with all of those great defenses, man, what did you really…You couldn't have a good year on defense if the only games that mattered, you lost. But at our height, at our best, I think we were the only team in the NFL that had three players of the year on the same defense. That says a lot in itself right there. I just wish we had more titles to go along with our accomplishments.
Do you think a team like Seattle, a team that won only one championship a couple of years ago could compete with your defense back in its heyday?
Oh definitely. They did some very good things. Seattle, you know Earl Thomas, he had a lot of similarities to the great Ed Reed. That in itself shows that they were a very good defense. Also the Tampa Bay Buccaneers. Warren Sapp, Simeon Rice, Derrick Brooks and those guys. Dexter Jackson. That was a really good defense they had to only win one title, too.
What's been your favorite moment since you've been in the NFL?
Definitely winning the Super Bowl. With winning the Super Bowl, you spend your whole life trying to get there. Then you finally get there and finish the job, that's definitely in my football career, the highest high. But you know it's never good enough. You don't want to win just one. You want to experience that as many times as you can.
In that Super Bowl, you faced Colin Kaepernick probably at the peak of his young career. Do you think Colin will ever get another chance to play in the league?
I hope so because I think he definitely deserves it. I mean he's been a model citizen on-and-off the field and there are guys that have had incidents off the field that have still been able to get a second chance in the league. You know all he did was protest. He exercised his freedom of speech. His right to protest. He's kind of getting condemned for it, but I definitely think he should get another opportunity to play in the league. I think one should only be graded [by the league] on what they do … not by their personal beliefs.
In the past, you've expressed your disdain for Tom Brady. How sick did Super Bowl LI make you?
Well, I don't really care if I'm not playing. If I'm not even in the playoffs, not even a chance of winning it, whoever wins I could care less. I'm that much of a competitor. I feel like if I had the opportunity to be like LeBron James and play in seven straight Super Bowls, I would do it, but like I said, if I'm not playing in it, I could care less.
What's it going to take for you and Baltimore to get back to the Super Bowl this season?
First things first, we have to start from the ground up. We have to get back to being nasty and ready. We have to get back to being known for doing what we do. Right now, that starts in the offseason. Right now, we've got to get a lot of guys involved in offseason programs and that's a big step right there. So we'll start there and kind of let everything else handle itself.
What's been the coolest part of you being in the media world? One favorite part of being in front of the camera and one favorite being behind the scenes.
Definitely for in front of the camera being on HBO's "Ballers." I got to do some acting on the big time stage. It's HBO. When you think of TV, everybody remembers watching a movie on HBO. So definitely being on HBO for in front of the camera. And behind it, I just directed my first thing ever. I co-directed with my partner Monica Mingo a TV pilot all offseason, but I have to say the best thing comes in pieces for behind the camera. I had one film making it to Cannes Film Festival; it was a short film called When Beautiful People Do Ugly Things" and then we went on to shoot my first feature film; it's called Coalition; it's still on Netflix. Recently, like I said I directed my first thing, I co-directed my TV pilot, so I would have to say a combination of those three things as being a very flattering experience behind the camera.
What is your goal when you're starting a project?
Oh, get nominated for an Academy Award! Once you get nominated, you can work on winning one. An Academy Award is the Super Bowl for filmmakers. You definitely want to be appreciated for the work you do sitting amongst the best. Anything I do, I want to be the best at it, so for one, try to get nominated.
Donald Glover really put "Bad & Boujee" in a position to become the No. 1 song after he shouted out the song and Migos in his acceptance speech at the Golden Globes. Do you know what you're going to say in your acceptance speech yet?
Nah. I"m just working on the process right now.
Who would you say is more iconic between The Rock and Ray Lewis?
Even though Dwayne is doing tremendous things right now, I think he's the highest paid actor in Hollywood right now, I'm going to have to say it's Ray Lewis.
Where do you rank Ray in terms of the greatest linebackers in NFL history?
The highest. There hasn't been a better linebacker than Ray Lewis.
Is there anything else you'd like to let people know about Terrell Suggs' vision?
Just to be aware of T-Swizzle Films 2017.