Carmen Bryan, who shares a daughter, Destiny Jones, 20, with rapper Nas, weighs in on a possible love connection between her ex and Nicki Minaj.
In case you missed it, a photo of Minaj and Nas popped up on Instagram this week, giving fans on social media plenty of reason to believe they'd entered a budding romance. The photo in question, posted to Minaj's account, was taken at Sweet Chick (co-owned by Nas) in New York City.
The dynamic duo, who appeared together in "Right By My Side" back in 2012, were apparently out for dinner with Statik Selektah, who tagged Sweetgrass Productions in a separate photo of his own, from the same night. Meanwhile, rumors of a love connection between Minaj and Nas started making the usual gossip rounds earlier this year. At one point, a hopeful hashtag was born.
Needless to say, one photo was all it took to send fans — Bryan included — into a frenzy.
When asked by a fan her thoughts on the father of her child hooking up with Minaj, Bryan said, "I'm relieved I didn't think my baby father still dated women" via Instagram.
When one fan chimed in to defend Nas following the shady comment, Bryan fired back writing, "Like what? I'm use to Nas dating 19-year-old's. I'm actually glad to see him dating a woman."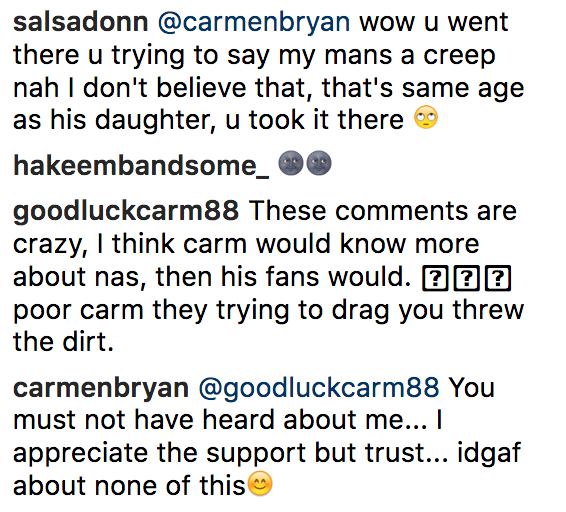 All-in-all, according to Bryan, when it comes to matters surrounding her ex, she could care less. "You must not have heard about me," she responded to a second user, who defended her claims. "I appreciate the support but trust… idgaf about none of this."
Nas has not commented on Bryan's claim.
What are your thoughts on Bryan's shady "idgaf" comment? Sound off in the comment section below.