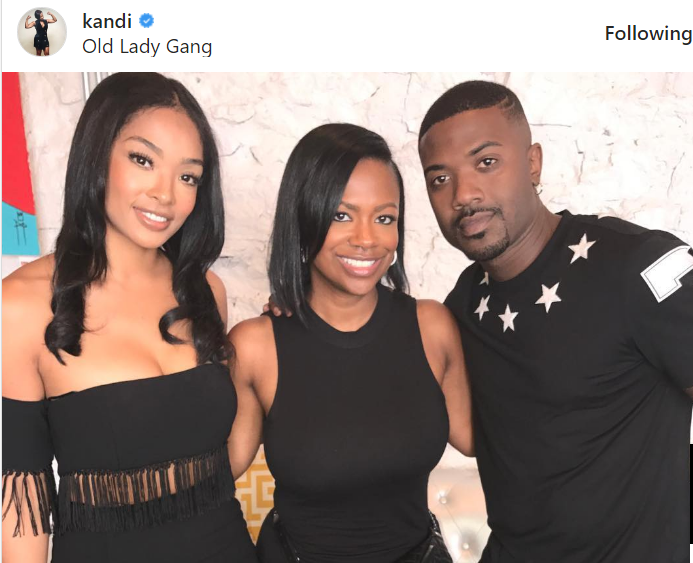 The vicious lies and negativity hovered over Kandi Burruss like dark clouds throughout season nine of the "Real Housewives of Atlanta." Burruss now admits the atmosphere became so toxic that she considered quitting the show.
Phaedra Parks, who was fired immediately after the airing of the season nine reunion show finale, told former best friend Porsha Williams that Burruss and husband Todd Tucker wanted to slip Williams a powerful sedative and then take her back to Burruss' sex dungeon to rape her. Parks also spread the lie that Tucker was cheating on Burruss during trips to New York. Williams, who is extremely gullible and lightheaded, repeated the lies fed to her by Parks.
Shifting through the debris of a disastrous experience, Burruss talked to US Weekly about her rough season while she was in New York:
"During season nine, I was feeling like I might want to leave because there was so much hate from fans online and I was having trouble because, how do you defend yourself from a lie?" Burruss said. "How do you defend yourself from something that never happened?
"I've never had drama like that that lasted the whole season. It was very sh–ty. But now I'm extremely happy that people were able to see the truth. Sometimes I thought people would never know the truth and it would have been a stain on me forever."
Fortunately, Burruss took out a restraining order on Williams that forbade her from speaking publicly about the alleged dope-and-rape scheme. Burruss didn't know it at the time, but that piece of legal maneuvering forced Williams to reveal the source of the lies at the reunion show, who turned out to be Parks. Consequently, the entertainment lawyer is now a casualty of her own malevolence as she is not only axed from the show, but she has hired extra security to deal with death threats.
And after seeing some dark days, Burruss has now emerged into the light. While she continues to build her empire, she is managing her family-owned restaurant in Atlanta, Old Lady Gang, and folks are clamoring to check out the Xscape reunion concert.